From our sponsors: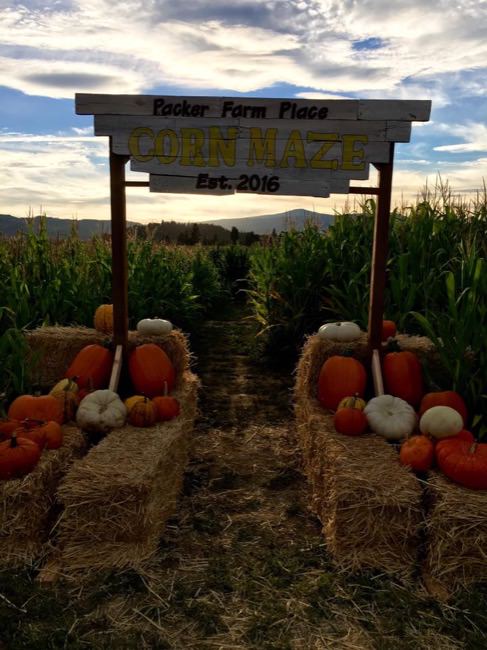 Packer Farm Place Corn Maze
September – October 2016, Daily 10 a.m. – 5 p.m.
Through November 20, 2016, 10 a.m. – 4 p.m. Weds-Suns
More info: packerorchardsandbakery.com
Packer Farm Place
320 Thomsen Road, Hood River, OR 97031
The Packer Farm Place in the Hood River Valley has opened their famous Corn Maze and family favorite Pumpkin Patch. It's also the time when the bounty of the Hood River Valley is abundant. Apples (i.e., Honeycrisp, Gala, and Fuji), Asian pears, pumpkins, and corn are all available. Visitors can take home u-pick sunflowers and other flower varieties. There are picnic areas for family and friends to gather, and games for kids. Guests will find recipes, tastings of a wide variety of fruits and fruit products, and a knowledgeable staff to help with it all. Pies, empanadas, preserves, pie fillings, cookies, and so much more can be found as well.
Located at 320 Thomsen Road along the Hood River Fruit Loop, the farm was established in 1945 as a dairy cattle farm, and transformed over the years to be family friendly destination and visitor stop in the Gorge. Packer Orchards honors the long-time traditions of the farm, including corn mazes, u-pick berries, a pumpkin patch, flowers, and lots of family fun. In addition, they have added some touches of their own by offering all the Packer Bakery favorites such as fresh fruit pies, empanadas, jams and jellies, canned fruits and vegetables, and lots of fresh fruit.
The Farm Place will be open daily in September & October from 10am-5pm, and then in November Wed-Sunday 10am-4pm until November 20. Packer Orchards & Bakery is open daily 9am-6pm. Find more details and the online store at packerorchardsandbakery.com