From our sponsors: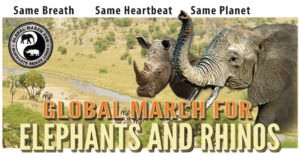 Global March to Save Elephants and Rhinos
September 24, 2016
1 p.m. | All Ages
More info: march4elephantsandrhinos.org
Terry Schrunk Plaza
SW Madison St, Portland, OR 97204
In an effort to raise global and local awareness about the worst mass poaching and wildlife trafficking crisis, referred to as "wildlife genocide," that is driving elephants, rhinos and other endangered species to the brink of extinction – Portland, Oregon will join for the first time ever more than 135 cities around the world on Saturday, September 24th at 1:00 pm at Terry Schrunk Plaza for The Global March for Elephants and Rhinos.
Portland will march in peace and solidarity with cities around the world on September 24th, the opening day of CITES CoP17 (the 17th meeting of the Conference of the Parties to the Convention on International Trade in Endangered Species of Wild Fauna and Flora) in Johannesburg, South Africa. It is the world's largest and most influential conference on international wildlife trade where delegates will be voting on the future of elephants, rhinos and other endangered species.
The Global March for Elephants and Rhinos will be calling on CITES to vote with a conscience and provide these iconic, highly intelligent and sentient animals with the highest level of protection: a global ban on all ivory and rhino horn trade and wildlife trafficking, all ivory stockpiles burned world-wide and listing elephants and rhinos under Appendix 1 – the highest level of protection on the CITES list of species that are the most endangered and threatened with extinction.
Joining and giving their full support and endorsement of this global event are guest speakers Debbie Ethell, conservation research scientist and executive director of the Kota Foundation that aims to educate people about African elephants as a way to support positive outcomes for their survival – along with Kristin Leppert, campaign director of Save Endangered Animals Oregon, a grassroots campaign that worked to put Measure 100 on November's ballot to protect 12 highly trafficked animals from cruelty, poaching and the threat of extinction.
"Elephants are crucial to the ecosystems they live in. We know that they have complex emotions and social structures and yet we have a real problem right here in Oregon trading ivory. We urge you to join us for the Global March for Elephants and Rhinos in Portland to spread the message that these magnificent animals are Worth More Alive" – Debbie Ethell, the Kota Foundation.
The United States is the second largest market behind China in the demand for illegal ivory and wildlife parts and products. Oregon is the only state on the West Coast that has not enacted strict measures to prevent and combat wildlife trafficking. Vote "Yes" on Measure 100!
The Global March for Elephants and Rhinos is a non-profit volunteer organization that advocates for the survival of elephants and rhinos by working to end poaching and the wildlife trade. Its mission is to inspire every city, state and nation to be protectors of wildlife and to leave a legacy for generations to come of love, kindness, compassion and humanity.