From our sponsors: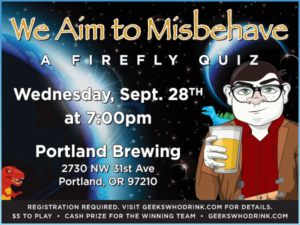 We Aim to Misbehave: A Firefly Quiz!
September 28, 2016
7 p.m. | $5 | 21+
More info: http://bit.ly/GWDFirefly
Portland Brewing Company
2730 NW 31st Ave, Portland, OR 97210
Do you always find yourself in an Alliance friendly bar on Unification Day? Is your speech peppered with Chinese obscenities? Are you a leaf on the wind? On September 28th, we're headed to the outer planets for We Aim to Misbehave: A Firefly Quiz at select Geeks Who Drink venues.
The quiz will cover all 15 episodes of the cult Fox show and the feature film Serenity. Since the show only lasted one season, we're making all Firefly cannon fair game. Study hard. Normal Geeks Who Drink rules apply. Your team is limited to 6 crew members and admission is $5 per person and we're accepting cash only so leave your gorram credits at home.
Check below for venues and times and make sure to arrive early. You are required to register your team in advance (http://bit.ly/ThemeQuizReg), but tables will still be available on a first-come, first-serve basis.