From our sponsors: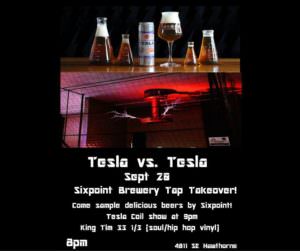 Sixpoint Brewery Tap Take Over
September 20, 2016
8 p.m. – Midnight
More info: Facebook

QuarterWorld Portland
4811 SE Hawthorne Blvd, Portland, Oregon 97215
Join Quarterworld and Sixpoint Brewery for an electrifying evening of: beer, music, science, and art!
Sixpoint will be taking over our taps and pouring their best seasonal (and staple) beers, including the TESLA! Tessie, our enormous singing Tesla coil, will be playing 8bit favorites at 9pm. Immediately after, King Tim 33 1/3 will be kicking out soul/hip hop jams.
We will also be showing off our first in a series of new murals by local artist: Heidi Elise Wirz. Come by, have a beer, play some pinball, and ride the lighting with us.