From our sponsors: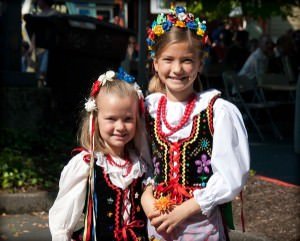 Portland Polish Festival
September 17-18, 2016
Saturday: 11am – 10pm
Sunday: Noon – 6pm
Free | All Ages
More info: portlandpolonia.org
Between St. Stanislaus Church & Polish Library
3900 N. Interstate Ave., Portland, Oregon
The 23rd Polish Festival, one of Oregon's premier ethnic events, will be held again Sept. 17-18 on the Polish Library Hall and St. Stanislaus Church grounds at 3916 N. Interstate Ave. Admission is free.
More than 12,000 people attended last year's celebration recognizing Oregon's historic Polish neighborhood. The celebration is the largest Polish festival in the Western United States, says coordinator Marek Stepien who has Polish festivals in the American Midwest and Canada.
The festival runs from 11 a.m. to 10 p.m., Saturday, and noon to 6p.m., Sunday, with continuous stage entertainment and a Saturday night street dance.
This year's festival foods will include pierogis, Polish entrees, fruit-filled pastries and, delectable kielbasa sausages, and beer garden featuring Polish lagers, porters and other beers. Chefs have ordered 15,000 pierogis for the two-day fete and imported 6,000 bottles of Polish beers and wines.
Oregon's first Polish families were predominately from the Carpathian Mountains of southern Poland and eastern Poland near present-day Ukraine. The families created a Polish National Alliance chapter in 1892 and built the historic St. Stanislaus Roman Catholic Church in 1907 and Polish Library Hall in 1911. Both landmarks display Romanesque architecture common in southern Poland, and have been officially recognized as state historic sites.
The parish's namesake is St. Stanislaus Szczepanowski, martyr of the early church. He was archbishop of Krakow in the 11th Century. One of his successors as archbishop of Krakow, was Archbishop Karol Wojtyla, who would become Pope John Paul II in 1978.
To get to the festival site, take I-5 and then the Swan Island exit (exit 303), and turn south on Interstate Avenue and proceed six blocks to the festival grounds. Free parking is available at the adjacent Kaiser Permanente complex lots and garages.
Visitors can also take the Light Rail Yellow Line to the Overlook Station. Easy transfers from the Westside and Eastside MAX are available at the Rose Garden station.