From our sponsors: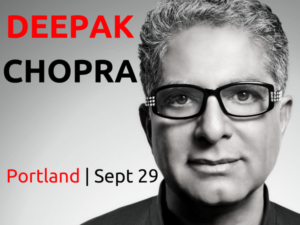 Deepak Chopra Live in Portland
September 29, 2016
7:30 p.m. | $39 – $157
Tickets: eventbrite.com
Oregon Convention Center
777 Northeast Martin Luther King Junior Boulevard, Portland, OR 97232
Deepak Chopra is coming to Portland!
You're invited to join Deepak Chopra for a ground breaking evening in Portland (at the Oregon Convention Center on September 29th.)
During the course of the evening Deepak will reveal to you:
"A roadmap for your higher health"
The event will start at

7:30pm

, with a private reception with Deepak starting at

6pm

for those who purchase Gold tickets. (purchase Gold tickets directly off this page)
The evening will offer you clarity and groundbreaking advice for elevating your health based on the latest findings in both mainstream and alternative medicine.
Deepak will walk you through six lifestyle choices—diet, stress level, exercise, meditation, sleep and emotions—that can radically enhance our wellbeing.
He will reveal cutting-edge research on the tiny microbes that inhabit intestines, mouth, and skin and provide practical ways to reprogram your body for optimum wellbeing.
All proceeds to go to I Am Genie foundation to help with their wish granting activities. See more here:
The Genie from Genius Productions on Vimeo.