From our sponsors: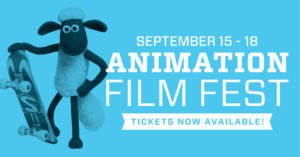 Animation Film Festival
September 15-18, 2016
Passes: $19 Adult / $16 Youth (3-13) & Senior (63+)
Tickets: $7 Adult / $6 Youth (3-13) & Senior (63+)
More info: http://bit.ly/2c0OQYI
OMSI's Empirical Theater
1945 SE Water Ave, Portland, OR 97214
A celebration of animation from independent shorts to feature films, the OMSI Animation Film Festival showcases a selection of intelligent, entertaining and provocative programming from some of the world's most creative artists. With highlights that include an appearance by Laika Studios' 18-foot tall stop motion skeleton puppet, a cake-baking octopus, and an imaginative 1940's steampunk adventure, the Empirical Theater's giant screen will offer a fantastical smorgasbord of animation with something sure to appeal to nearly everyone.
Festival Schedule
Thursday, September 15
6:30pm LAIKA: The Giant Skeleton from Kubo and the Two Strings & Staff Animated Shorts
Please note: Individual show tickets sold out. Limited seating remains for Festival Pass Holders.
Friday, September 16
4:00pm Finding Dory
6:00pm The King and the Mockingbird (Subt)
7:30pm April and the Extraordinary World (Subt)
9:30pm Fantastic Mr. Fox
Saturday, September 17
12:00pm Kid Flix: Best of The 2016 New York International Children's Film Festival
1:00pm Family Flix: Best of The 2016 New York International Children's Film Festival
2:30pm The Secret of Kells
4:00pm The King and the Mockingbird (Dub)
5:30pm Shaun the Sheep
7:00pm Coraline 3D
8:45pm Anomalisa
10:15pm American Pop
Sunday, September 18
1:00pm Kid Flix: Best of The 2016 New York International Children's Film Festival
2:00pm Family Flix: Best of The 2016 New York International Children's Film Festival
3:30pm April and the Extraordinary World (Dub)
5:30pm Boy and the World
7:00pm Fantastic Mr. Fox