From our sponsors: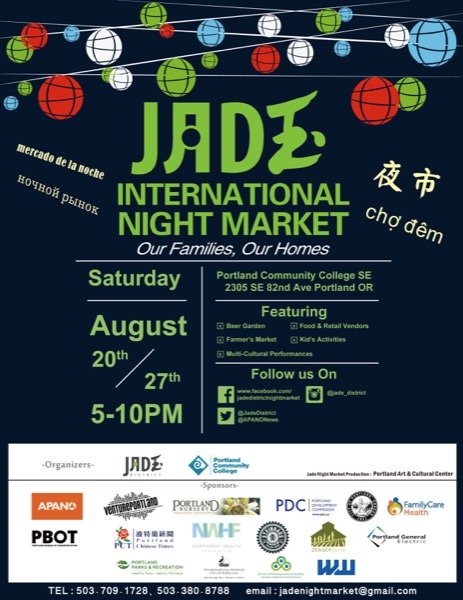 Jade International Night Market
August 20 & 27, 2016
5-10 p.m. | Free
More info: jadedistrictnightmarket.com
Portland Community College Southeast Campus
2305 SE 82nd Ave, Portland, OR 97216
On August 20th and 27th, the Jade District and the Asian Pacific American Network of Oregon will be hosting the third annual Jade International Night Market. The Jade District will host the markets in collaboration with Portland Community College Southeast Campus, located at 2305 SE 82nd Ave., Portland, Oregon. The markets will run on Saturday August 20th, from 5:00 p.m. to 10:00 p.m, and on Saturday, August 27th from 5:00 p.m. to 10:00 p.m.
This event takes place every year and provides a unique cultural event that reflects the diversity of the Jade District. We envision an event that supports and roots the Jade District community in place, while providing an opportunity for community members and businesses to benefit economically from the event. Last year, the Jade International Night Market brought over 25,000 visitors to Southeast 82nd Ave. to participate in a positive community-driven event in an area that is rapidly changing.
The Jade District is centered around Southeast 82nd Avenue and Division Street. The goal of the Jade District is to build power, health and stability for the community that currently resides here in the face of gentrification pressures.
This year, the Jade International Night Market will feature over 90 vendors representing the diverse culture of the Jade District, including food, retail and non-profit booths.
Some local restaurants that will be participating as vendors are Ocean City Seafood Restaurant, Abuela Chona, Chongqing Huo Guo and Thai Fresh to name a few. Performances featured are the PACC Wushu Team, Monalisa Art Institute, Ekome, the young pop singer & song writer Rachel Wong and theAsian American 'Chinatown rock' dance band, The Slants!
Come and enjoy authentic international cuisine from the local community that resides in the neighborhood, family friendly entertainment, a beer garden featuring microbrews and 2 Towns Cider.