From our sponsors: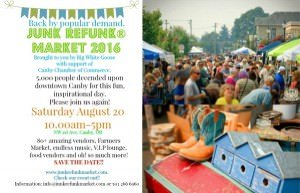 Junk Refunk Market
August 20, 2016
10 a.m. – 5 p.m. | All Ages
More info: junkrefunkmarket.com
Downtown Canby
5,000 people descended upon this small town from Bend, Washington, Portland all to experience with their friends all things Vintage, Recycled, Up cycled, Re-loved both for the home and garden. There were 60 vendors all offering something different.
Five bands played to the crowds as people shopped, danced, and enjoyed the atmosphere.
Due to demand Junk Refunk® Market is back on August 20th, 2016 with 120 vendors, plus 20 vendors from the local Farmers Market joining Junk Refunk ®downtown.
Music from some very talented bands along with a VIP Junk Refunk Lounge and Courtyard, bar, as well as artisans walk and much more.
We expect almost double the crowd as last year and continue to grow this event every year.
Cheryl Frampton creator of this event explains " both my son and I have created many events in both UK and Sarasota, Florida in the past. We had no idea with the last year's event it would evolve and grow with interest so quickly. Within three weeks we had 40 vendors sign up, for some this is there first experience. The success of last year was amazing and was an infusion of home inspiration and street party all in one.
Richard Dark creative music coordinator said, "since last years event we have had bands on a waiting list to be part of this year's event. We will be including more bands, who in themselves have a good following and feel certain this is just the start once again of a great venue that will grow each year, we are all very excited."