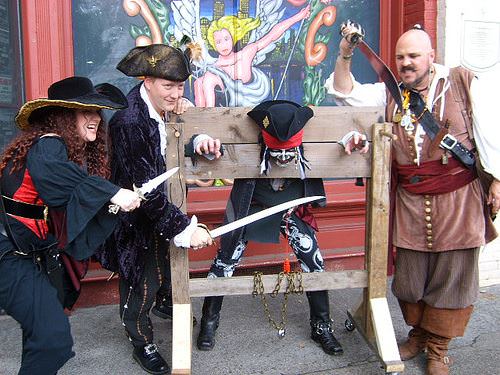 Portland keeping it unusual this weekend with the annual Plunderathon this Saturday. The meeting point is the Skidmore fountain at noon, just like it has been for 172 previous years. Activities include disliking lawyers, wearing pirate gear, drinking, plundering, games, and more drinking. Have a good time!
———————————————
Related Portland Events & Info
———————————————
From Portland Plunderathon:

173rd Annual Portland Plunderathon
Saturday, July 30, 2016| Meet at Skidmore Fountain @ Noon
Free – Bring cash for drinks
Avast me hearties!
Sharpen yer boots and clean the poop off yer daggers! Every year for 173 years without fail, we pirate crews put aside our differences for a day and get our revenge against the fair city of Port-Land!
As always, we meet at noon by the fountain of Skid-More, which commemorates the site of our 1844 battle against the combined militias of Port-Land, Vancouver, Troutdale and four highly confused people from Albuquerque. We lost the battle but won the hearts and minds of the people whose hearts and minds we stabbed.
This year, we make our triumphant and heralded return to the land of Downtown. The crew will raid our past haunts, traveling from pub to pub as we take back the city, and raise the black flag! What could possibly go wrong?
Huzzah!
———————————————
Our new Portland Events App for PDX Pipeline is now available for iPhones, Android phones and iPads!
Now, you can have all of the great Portland events from our website in the palm of your hand when you're out on the town.
Download the App for iPhone here
Download the App for Android here
–————————
———————————————