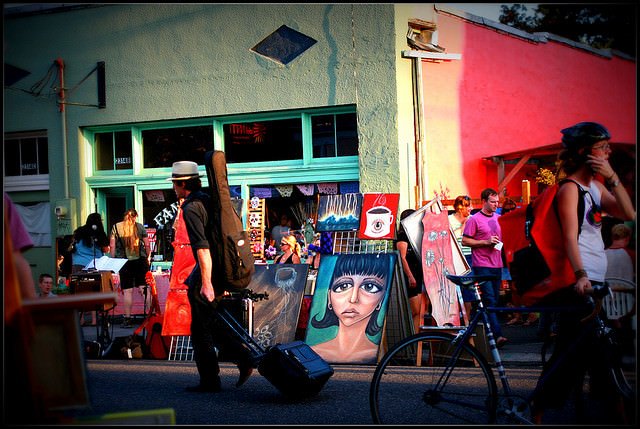 Last Thursday photo by dit_tabano
Tomorrow/ July 28 is the second official Last Thursday for 2016! Alberta Street between 15th and 30th Avenues will be closed for Last Thursday at 6 p.m. and reopen at 9 p.m. There will be many art openings, live music and plenty of fun to be had!
———————————————
More Portland Events & Info:
—————————————————–
Last Thursday Info and Tips:
On Twitter? Follow @lastthursday & #lastthursday tag
Street Closure: Alberta street is closed for Last Thursday at 6PM.
Parking: Parked on Alberta Street? Cars need to get off the street by 5pm.
Trimet: Bus reroutes are in effect from 6-11pm on Alberta. Catch the bus at stops on Killingsworth instead.
Vendors: Make room across sidewalk for wheelchairs to have access to your goods, and wait til 6pm to set up in the street. Parking lanes ok after 5! Vendors may not set up in side street entrances so emergency vehicles can get in. Buskers only in these areas. Although we love non-profits we ask they give up their spots at Last Thursday for artists, crafters, musicians, and vendors of handmades.
Noise & Boomboxes: Be respectful with that boombox! Sound during Last Thursday should not carry more than half a block. A noise ticket could cost you $500. The Noise Office and police will work to bring street musicians within compliance of the city's noise code.
Trash: Last Thursday is a leave no trace event. Pick up after yourself. Trash stations are located at every intersection
Open Containers: No open containers at Last Thursday. Police will strictly enforce open-container drinking in the right of way, as well as marijuana use. Neither was enforced strictly in the past.
Fire: Fire spinners need permits.
Closing Time: The city will start opening Alberta at 9:00 p.m., be ready to go please.
Friday: Neighborhood clean-up in effect on Alberta after Last Thursday
————————————————-
Our Portland Events App for PDX Pipeline is now available for iPhones, Android phones and iPads!
Now, you can have all of the great Portland events info from our website in the palm of your hand when you're out on the town.
————————–
—————————————-