From our sponsors: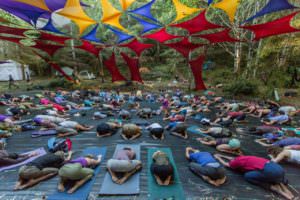 2016 Beloved Festival
August 12-15, 2016
All Ages
Full Weekend Pass $225 Early Bird
Upgrade Thursday Pass $54
Tickets: belovedfestival.com
Tidewater Falls
12154 E Alsea Hwy, Tidewater, OR 97390
Some Experiences Are Only Possible At Beloved Festival
"I beamed unlimited gratitude right back at the people surrounding me, flooding me with love, and it all erupted in tears of joy."
– The Polish Ambassador
Four years ago at Beloved Festival, a tradition was started that has touched the lives of everyone who was there to witness. For one special set on Sunday afternoon, the DJ booth at the festival's main, and only stage, is brought out into the middle of the dance floor, and there in the center of the crowd, one of the festival headliners plays a set among the dancing patrons.
The tradition kicked off in 2013 with OTT playing in the middle of the crowd, followed by Opiuo in 2014, and The Polish Ambassador in 2015. This year, OTT will return to boogie once more among the Beloved Festival crowd.
The 9th annual Beloved Festival returns to tranquil Tidewater, Oregon this August showcasing over 40 globally celebrated artists including TIPPER, Rising Appalachia, Trevor Hall, Fatoumata Diawara, King Sunny Ade,Nicola Cruz and cultural icon Bhagavan Das to name a few. Featuring a diverse lineup of music, workshops and presentations across the festival grounds, Beloved has long been considered the gold standard of conscious music events — swiftly selling out each year, for the last six years.
Tickets for the event are moving swiftly, and event organizers encourage festival goers to purchase tickets in advance of its annual sell-out. For more information about the Beloved Festival and everything that makes this sacred-niche event unique check out the official website at www.belovedfestival.com