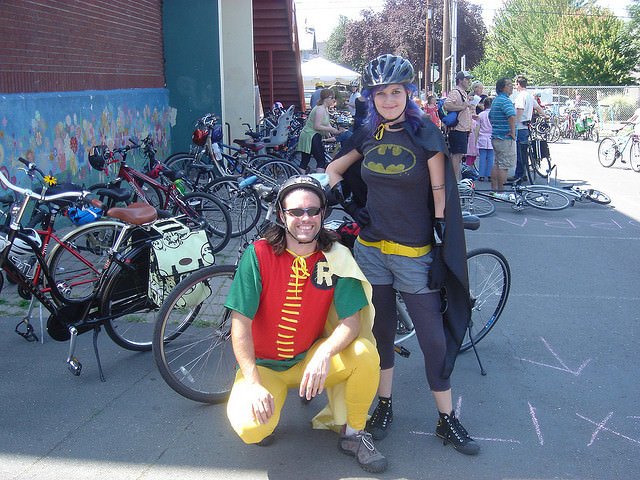 In 2014, 108,900 Portland area residents and visitors participated in Sunday Parkways, allowing them to get out and be active in communities across the city. This year, Sunday Parkways is happy to present five more fun community connecting events.
———————————————
Related Portland Events & Giveaways
———————————————
From website: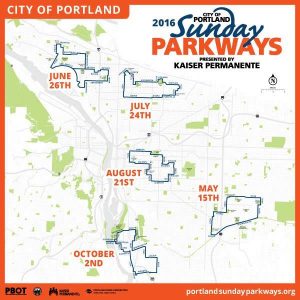 2016 Sunday Parkways
May – October 2016
More info: portlandoregon.gov
Portland Sunday Parkways is about opening streets and connecting neighborhoods. All people – walkers, runners, bicyclists, mobility device users, seniors, adults and children – are invited to enjoy a day of healthy physical activities right in their own neighborhoods or while exploring a new one!
July 24 – Northeast Portland
Celebration time, come on! Come on out to Northeast Portland Sunday Parkways on July 24, 2016 from 11 am – 4 pm. In this tour of the Northeast, Sunday Parkways will show off some of the city's premier family friendly bicycle routes, called neighborhood greenways, along with a visit to four beautiful parks on this 8-mile route with no start or end.
August 21 – Southeast Portland
Southeast Portland Sunday Parkways is rocking and rolling into town on August 21, 2016 (11 am – 4 pm) to open up 7 miles of open streets for your enjoyment! Spend a warm summer day walking, strolling, and rolling around the Southeast Sunday Parkways while taking time to check out Laurelhurst, Sewallcrest, Colonel Summers, and Ivon Parks to grab a bite to eat, listen to tunes, and join some activities.
October 2 – Sellwood/Milwaukie
Introducing our NEW Sellwood-Milwaukie route! That's right. We are moving our last event of the year to October AND we are scooping out new adventures. Our new route takes us through Sellwood, over the Sellwood bridge, and into the city of Milwaukie. There are so many exciting highlights for this route – rolling hills, beautiful views, and a trip to the Milwaukie business district and a stop by Water Tower Park.
Additionally, we are once again teaming up with the Salmon Celebration and the Bureau of Environmental Services (BES) for the second year in a row at Westmoreland Park. It's going to be amazing! Expect fun, friends, family and a host of new faces and places along this route!
————————————
Our new Portland Events App for PDX Pipeline is now available for iPhones, Android phones and iPads!
Now, you can have all of the great Portland events from our website in the palm of your hand when you're out on the town.
–————————————
—————————————————–