From our sponsors: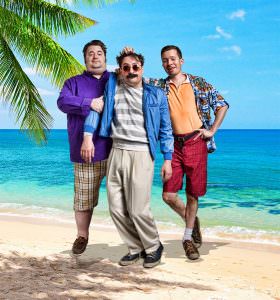 Weekend at Bernie's
July 22, 23, 29, 30, 2016
8 p.m. | $16 General, $24 VIP
More info: brownpapertickets.com
Photo by Gary Norman
The Siren Theater
315 NW Davis, Portland
After six weeks of slaying late-night audiences, your favorite slain 80s character is now going prime-time, with 8 o'clock shows for the remainder of the run!
Bernie Lomax is dead, but he's the life of the party! This summer, the smash hit 2013 stage production of Weekend at Bernie's is back, this time in the beating heart of Portland's club district.
Based on the 1989 movie of the same name, Bernie's is the story of two bumbling guys who try to convince the world around them that their dead boss isn't dead. There's beach babes and mob bosses and fantastic 80s costumes. Stupid right? Yes, but WAIT. There's actually a pretty good farce in there, especially after our crack team of comedy writers threw the script on a butcher's block, strapped on some funny-making goggles and went to town on it.
The result is a breakneck, whip-smart, silly and truly funny stage show. Originally produced in 2013, Bernie's was received with oversold houses and critical acclaim. The legendary Bob Hicks of the Oregonian wrote "But, damn, friends, this thing is funny!" in a 1000 word love-letter of a review.
Running in the heart of Portland's old town club district at the up-and-coming Siren Theater at 8pm, Bernie's is the perfect way to start out or finish up a night on the town this summer.
Weekend at Bernie's is brought to you by the same group of veteran comics, actors and writers who have been collectively involved in the sketch groups The 3rd Floor, Sweat and Bath night, and shows like Roadhouse: The Play, The Lost Boys: Live and After School Girlfight! Kill! Kill!
Collectively, the cast and production team of Weekend at Bernie's has appeared in 10 episodes of IFC's Portlandia, guest starred or costarred on 6 episodes of NBC's Grimm, TNT's Leverage and ABC's The Librarians, worked as regular performers or full DJ on PRI's national LiveWire Radio and Portland's most popular radio show The Daria, Mitch and Ted show on 101.5 The Buzz, have appeared in various independent and wide release films (Wild, Gone, Twilight) and have performed or produced comedy in Chicago, New York, Seattle and San Francisco.
Starring: Jason Rouse, Tony Marcellino, Andrew Harris, Lori Ferraro, Kelly Stewart, Ted Douglass, Kevin-Michael Moore, Marshall Bradley, Greg Bigoni, Jack Rice and Savannah LaLaurie.