We are giving away a pair of tickets to The Psychedelic Furs / The Church @ Revolution Hall on July 26. To win, comment on this post why you'd like to attend. Winner will be drawn and emailed Monday, July 25.
———————————————
From our sponsors: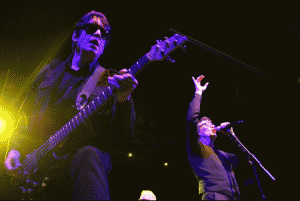 The Psychedelic Furs / The Church
July 26, 2016
Doors 7 p.m., Show 8 p.m. | $39.50 | Minors OK w/ Guardian
Tickets: revolutionhallpdx.com
Revolution Hall
1300 SE Stark Street, Portland, OR
If you were to dissect the today's alternative rock music, you'll find that much of it pays homage to The Psychedelic Furs. Led by vocalist and songwriter Richard Butler, and his bass-wielding brother Tim, the Furs scored major hits with "Love My Way," "Pretty In Pink," "Heaven," "The Ghost In You," and "Heartbreak Beat" in all releasing seven studio albums, spawning several compilations, a boxed set, and a live concert DVD.
Born out of the post-punk UK rock scene, the Furs quickly developed as one of the premiere bands on US College and Modern Rock radio scoring a multitude of #1 singles. With the advent of MTV in the early 80's the band took off into the stratosphere, and when John Hughes' approached the band with his film built around the Furs' song "Pretty In Pink", the band's legacy was cemented.
After a brief hiatus in the 90's, and a side project called "Love Spit Love", the band regrouped at the dawn of the new millennium.
The Psychedelic Furs touring lineup remains Richard Butler (vocals), Tim Butler (bass), Rich Good (guitar), Mars Williams (saxophone), Amanda Kramer (keyboards), and Paul Garisto (drums).
The Church
IT'S A UNIQUE BAND that finds itself cherished as a bona fide legend in the ARIA Hall of Fame while remaining a virtual enigma to the world that knows its name. But maybe that's no more remarkable than the mystery that continues to unfold within its own ranks.
The church's accidental signature tune, Under The Milky Way, is like a lighthouse on the brink of a continent forever to be discovered: 25 albums over 35 years and countless diversions that have almost destroyed them a dozen times, yet always reaffirm a mutual commitment to an uncompromising and unparalleled act of creation.
At this stage of the journey, FURTHER/ DEEPER seems both unimaginable and the only option on their endless quest from chaos to resolution. It's an album of breathtaking new vistas and intense emotions, of sinister black caskets and gorgeous caverns of light, a work born of immense struggle and effortless expression.
"The magic started on day one," says singer and bass player Steve Kilbey. "Someone strummed a chord or struck a drum or plucked a note and we were off. We wrote and recorded like demons and it was inspiring to feel every member using all his resources in the service of this record."