From our sponsors: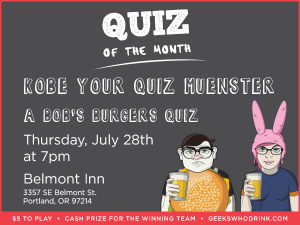 Kobe Your Quiz Muenster: A Bob's Burgers Quiz!
July 28, 2016
7 p.m. | $5 | 21+
More info: geekswhodrink.com
Pre-registration Required
The Belmont Inn
3357 SE Belmont St, Portland, OR 97214
Do you own a robust collection of erotic friend fiction? Is your best friend a talking toilet? Have you ever touched a butt in an atempt to save the world? If so, we're cooking up a theme quiz you won't want to miss! On July 28th, we're headed straight to Wonder Wharf for Kobe Your Quiz Muenster: A Bob's Burgers Quiz! at select Geeks Who Drink venues.
The quiz will cover all 6 seasons of the hit Fox show with an emphasis on the first 5 since they're easily streamed via Netflix. Be careful not to study anything non-cannonical. We're looking at you Archer crossover episode. Normal Geeks Who Drink rules still apply. Your team is limited to 6 players and cheating will be punished with repeated veiwings of Freaky Friday. Admission is $5 per person and we're accepting cash only.
Check below for venues and times and make sure to arrive early. You are required to register your team in advance (HERE), but tables will still be available on a first-come, first-serve basis.