From our sponsors: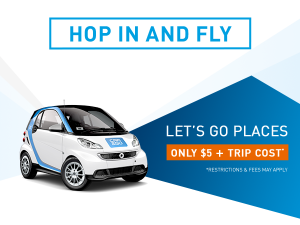 Hop in and Fly with car2go!
Free registration + 15 minutes using code FLY0015 at car2go.com
Car2go parking is now available at AirPark – right next to the Portland International Airport.
It's one of the most cost effective ways to get to and from the airport. In addition to car2go's affordable fixed rate of just $0.41 per minute or $14.99 per hour, the fee for trips to and from AirPark is just $5.
Interested in using a car2go to get to the airport? The first step is to become a member. Right now they have a free registration deal running through August 14th, 2016.
Registration deal: Free registration + 15 minutes using code FLY0015. This code can be redeemed at car2go.com/US/en/portland and is valid now through August 14, 2016
Departures
To access our parking spots, simply drive up to the AirPark gate, take a ticket from the machine, and the attendant will direct you to the car2go dedicated spaces. Be sure to leave the ticket on the dashboard for the next member.
Each space fits two vehicles, so remember to pull far enough forward to allow a second car2go to park behind you. Once you're ready to go, hop on the airport shuttle and head to your terminal.
Arrivals
To leave the airport, go to the courtesy shuttle area and call AirPark at (503) 257-2559 to request a shuttle. When the shuttle arrives, mention you're picking up a car2go so they can drop you off at the vehicle.