From our sponsors: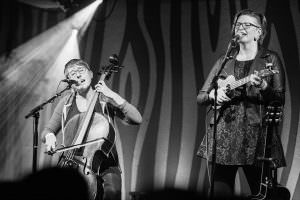 #NerdNightOut Presents an evening of music and comedy
The Doubleclicks
Danielle Ate the Sandwich
Barbara Holm, Lucia Fasano
July 19, 2016
Doors: 7:30 pm / Show: 8 pm | $10 – $12 | 21+
More info: dougfirlounge.com
Doug Fir Lounge
830 E Burnside St, Portland, OR 97214
The Doubleclicks
The Doubleclicks are a folk-pop sister duo from Portland Oregon, who perform a delightful show with songs about Dungeons & Dragons, social awkwardness, believing in yourself and much more. The sisters play cello, guitar, ukulele—and of course, their fan-favorite cat keyboard. Growing up in a musical family, sisters Angela and Aubrey Webber have played instruments their whole lives. But it wasn't until 2009 that Aubrey convinced her younger sister Angela to set her nerdy poems to music. The sisters put their new cello-infused singer-songwriter tunes on YouTube and quickly found that there was an audience for their music! Since then, The Doubleclicks have opened for nerd stars like Jonathan Coulton and Wil Wheaton, performed at dozens of conventions, libraries, colleges, comedy clubs and game stores around the US and Canada, and released more than 70 music videos on YouTube, where they have 13,000 subscribers and 2.9 million views. They have released four albums, a Christmas EP and an album of their music for children and host a monthly online concert for their fans.
Recently, the Doubleclicks 2015 album spent two weeks in the top 10 on Billboard's comedy albums charts. Their songs and YouTube videos have been viewed over 2 million times and featured on BoingBoing, Kotaku, the Huffington Post, and on NPR shows "Live Wire" "All Things Acoustic" and "State of Wonder."
"Everyone with a heart should find something to love in the Doubleclicks" – The Portland Mercury
"The Doubleclicks are what a non-judgmental world made of free ice cream and jet packs sounds like." – Author Matt Wallace
Danielle Ate the Sandwich
Danielle Ate the Sandwich is the stage name of indie-folk, songwriter, Danielle Anderson. Danielle is best known for her homemade and quirky YouTube videos and her recent work, composing the original soundtrack to the HBO documentary film "Packed in a Trunk: The Lost Art of Edith Lake Wilkinson." Her music career began modestly at open mic nights in Fort Collins, Colorado, and was unexpectedly jumpstarted by the popularity of her YouTube videos, that showcase her songs and silly personality. The true power of Danielle Ate the Sandwich, however, is her ability to sing stories both grand and small, with sweet vocals and thoughtful, honest lyrics. Danielle Ate the Sandwich has been touring nationally since 2009, cultivating a loyal and dedicated fan base, affectionately referred to as 'Fanwiches.'
Danielle Ate the Sandwich has shared the stage and collaborated with acts such as Pomplamoose, Leo Kottke, Mumford & Sons & Suzanne Vega. She has released five independent albums, receiving praise from fans of all ages. Her latest release, "The Drawing Back of Curtains" serves as the soundtrack to the HBO documentary film "Packed in a Trunk: The Lost Art of Edith Lake Wilkinson." Danielle currently tours the United States year round and is happily based in Fort Collins, Colorado.
The Denver Post says, "Danielle Anderson is a tender singer-songwriter, a brazen humorist, a fearless young woman. Performing as Danielle Ate the Sandwich, Anderson wields a ukulele, a guitar and her own words to tell stories about people."
Denver's Westword describes Danielle as, "cripplingly enchanting with lyrics telling the story of a generation coming of age in an age of uncertainty."
Barbara Holm
Portland comedian Barbara Holm has performed at the San Francisco Sketchfest, the Bridgetown Comedy Festival, the All Jane Comedy Festival, Bumbershoot Arts festival, Rose City Comic Con, PAX Convention, and the Women in Comedy Festival in Boston. She has written for IGN, The Portland Mercury, and the Huffington Post. She has been awarded Time Out New York's Joke of the Week and was named "one of the best things about comedy in 2012" by the Comedy Bureau. Her comedy has been described as clever, unique, idiosyncratic, and exuberant. Seattle City Arts Magazine called her a "comedy wizard" and Seattle Stranger Newspaper described her as an "adorable wunderkind" and she describes herself as "running away from this question to hide under the desk right now."
Lucia Fasano
Lucia Fasano is a comedian, musician, and writer from Los Angeles, California. She is the co-creator and co-star of web series Catty B's and a writer and cartoonist for online humor magazine, The Higgs Weldon. Since moving to Portland, Oregon, she has gone on to write and perform in the sketch show the Dapper Squad Mystery Theater, co-found and host the feminist comedy/music festival in 2012/2013, The Grrrl Front and host the Magic Box Comedy Show at Funhouse Lounge. She's been seen all over performing at established shows such as the Comedy Palace in LA, Chatterbox, Picture This!, Midnight Mass, Wineshots, Comedy on Trial, Fly Ass Jokes, Weekly Recurring Humor Night, the All Jane No Dick showcase, and more. She has performed in the All Jane No Dick Festival, the New York Funny Songs Fest and the Pacific Northwest Women's Comedy Festival. Her live performance has been described as "sharply hilarious" and "whimsical", but trust her, she's also funny, too. She was recently named the funniest twitter by indie rock band The Thermals. Find out for yourself at: @lucia_fasano.