Cathedral Park Jazz Festival Photo by Erik Ratcliffe
This weekend's Cathedral Park Jazz festival is "longest-running free jazz festival west of the Mississippi." Also, is there a cooler setting in Portland to see a jazz festival than in Cathedral Park under the St. Johns Bridge? No way and that is why it has lasted 30+ years !
———————————————
Related Portland Events & Info
———————————————
From our partners: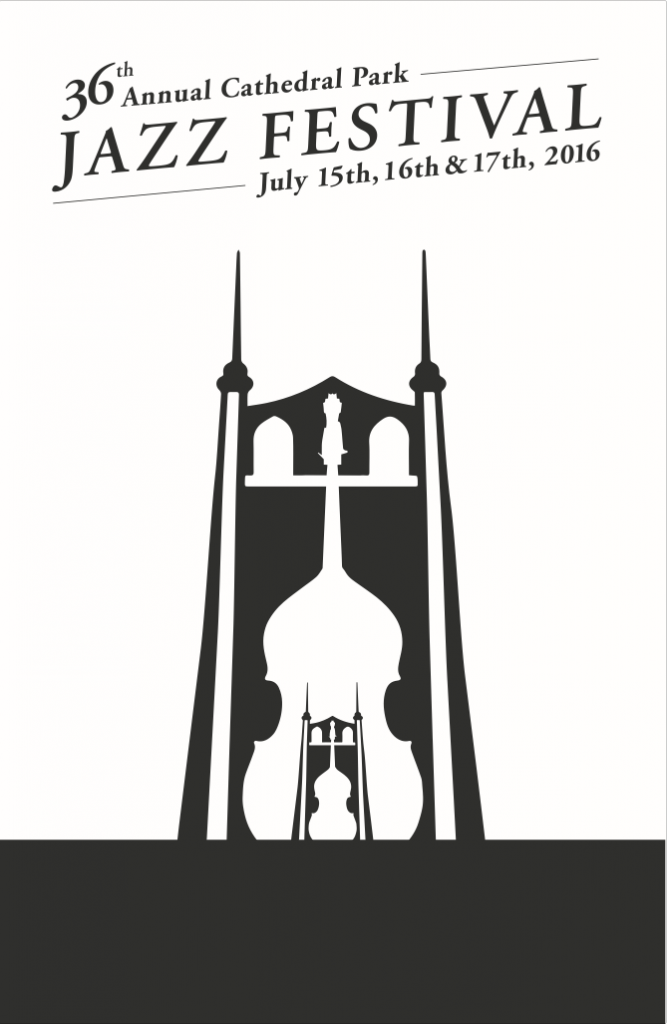 2016 Cathedral Park Jazz Festival
July 15-17, 2016
Free | All Ages
More info: cpjazz.com
St Johns Cathedral Park, Portland, Oregon
As the longest-running FREE Jazz Festival west of the Mississippi River, CPJF celebrates its 36th year with three days of world-class music. The Festival begins Friday night with dynamic Blues, R&B, and Soul. Saturday and Sunday will feature all the multiple styles of Jazz in all its glory. Keep checking our website to see who is performing this year.
The stage is situated in a natural amphitheater with a backdrop of the beautiful Willamette River to the west and the mighty St Johns Bridge overhead. he lush, green, and beautifully-maintained Festival grounds are the perfect place to bring a picnic or to purchase delicious offerings available from our food vendors. You are welcome to spread a blanket or set up low-profile beach chairs in the grassy bowl in front of the stage. City regulations prohibit alcohol in the park. However, alcohol may be enjoyed by adults 21-and-over in our shady Beer Garden with full view of the stage.
Our Sponsors' VIP tent will be situated on the crest of the bowl this year, giving CPJF sponsors a perfect view of the stage, as well as a chance for them to see and be seen. We have several cash and in-kind sponsorship opportunities available. Click on the Sponsors tab for more information.
Celebrating the Cathedral Park and St Johns Community is a major focus of this Festival. Neighborhood groups will have information booths promoting local businesses and philanthropic organizations.
CPJF recognizes the growing hunger problem in our area and has added a Food Drive to benefit area food banks. Barrels to collect donated non-perishable food items will be placed throughout the grounds. Information about the Food Drive may be found under the Festival Information tab.
The Jazz Society of Oregon Board of Directors and the Cathedral Park Jazz Festival Committee sincerely thank past sponsors, vendors, and volunteers who have helped make the Festival happen each year. We look forward to working with you again this year to make this wonderful Festival happen again.
2016 Schedule
Friday, July 15: Blues, R&B, and Soul 5:00 PM – 10:30 PM
5:00 United By Music North America Directed by David Fleschner
5:50 James "Coach" Hurley
6:15 Bottleneck Blues Band
7:20 SoupCan Rogers
7:45 Sister Mercy
8:50 Justus Reece
9:15 Ken Emerson Band
Saturday, July 16: Jazz 1:00 PM – 9:45 PM
1:00 American Music Program Directed by Thara Memory
2:30 Dan Balmer's Go By Train
4:00 Dina Y Los Rumberos
5:30 The High Water Jazz Band
7:00 The Joe Manis Trio
8:30 Errick Lewis & Expressive Vibe – Tribute to Earth, Wind and Fire
Sunday, July 17: Jazz 1:00 PM – 8:30 PM
1:00 NOPO Big Band
2:30 The Tim Willcox & Charlie Doggett Quartet
4:00 The Mel Brown Trio
5:30 Vocal Summit; Richard Arnold, Rebecca Hardiman, Mike Winkle, & Mitzi Zilka
7:00 Farnell Newton & The Othership Connection
—————————————————–
More Cathedral Park Jazz Pictures

Photo by Aaron Courter

Photo by one deep drawer


Photo by ocean yamaha

Photo by www.AnthonyPidgeon.com

Photo by JoshinYamada.com
———————————————
Our Portland Events App for PDX Pipeline is now available for iPhones, Android phones and iPads!
Now, you can have all of the great Portland events info from our website in the palm of your hand when you're out on the town.
–————————————
—————————————————–