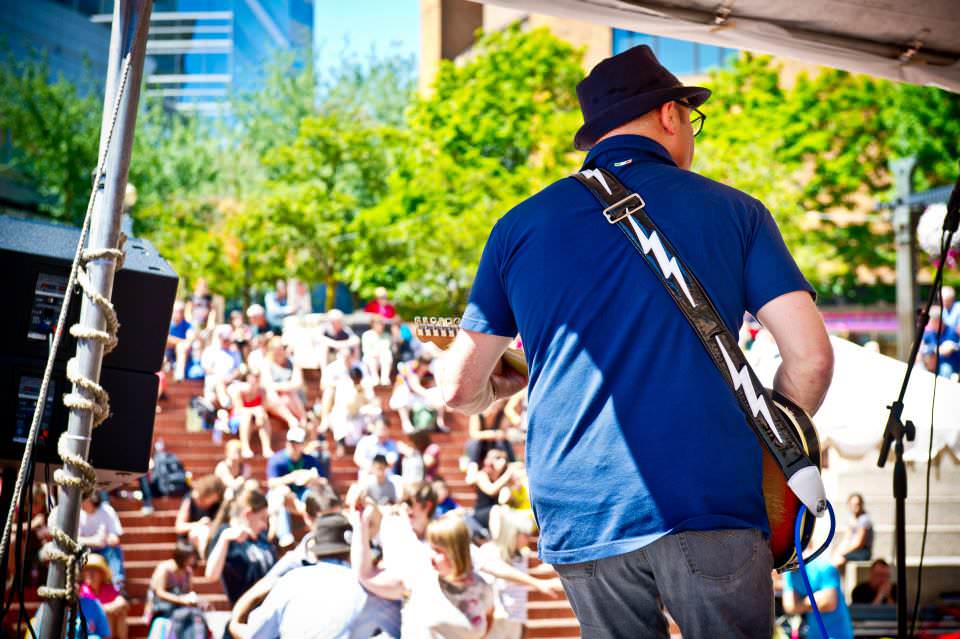 The 2016 "Noon Tunes" Concert series kicks off Tuesday, July 5th in Pioneer Square. Noon Tunes is Downtown Portland's longest running FREE concert series, and runs every Tuesdays in July and August from noon – 1PM. In addition to the concerts, there are food vendors, giveaways, and more.
——————-
Related Portland Events & Info:
—————————————-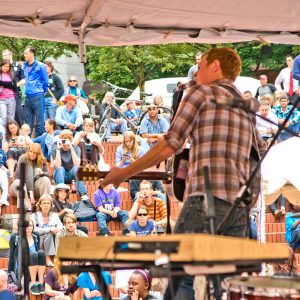 Portland Noon Tunes
July 5-August 30, 2016
Tuesdays | 12 p.m. – 1:00 p.m.
Pioneer Courthouse Square
701 Southwest 6th Avenue Portland, Oregon 97204
(503) 223-1613 | More info: thesquarepdx.org
July 5th kicks off the summer season with the fan favorite Noon Tunes Presented by 101.9 Kink and Oregonian Media Group. All nine concerts in this year's series will be held at the Square between Noon and 1:00PM each Tuesday throughout July and August. Each live concert will showcase a selection of homegrown music curated by Alpha Broadcasting's heritage rock station 101.9 Kink.
Be sure to come to Noon Tunes with an appetite as some of Portland's Favorite Food Trucks will be serving hot food each Tuesday. Between 11:00AM to 1:30PM grab a bite to eat from VooDoo Doughnut, The Dump Truck, Churros Locos, and Gamila Cafe.
This year, Noon Tunes will also feature games and activities with local sports teams and organizations like The Portland Trail Blazers and The Hillsboro Hops. Event attendees can enjoy the music while relaxing in summer furniture provided by IKEA Portland. Don't forget to stop by the 101.9 Kink booth to win prizes including CD's, movies and more, plus a chance to win a $50 IKEA gift card and a Skype Live Studio pass for two!
Mark Your Calendars for these Hot Summer Noon Tunes Performances curated by 101.9 Kink:
July 5th- John Nilsen & Swimfish with The Hillsboro Hops
July 12th- Morgan Alexander with The Portland Trail Blazers
July 19th- Teresa Topaz with Pips & Bounce
July 26th- Supraphonics with The Portland Timbers and Thorns
August 2nd – Aventine Circus with Pips & Bounce
August 9th– Tigers of Youth with Portland Rugby
August 16th- The TriTones with The Portland Winterhawks
August 23rd- CORNER with The Hillsboro Hops
August 30th- Justin Klump with The Portland Trail Blazers
——————————————-
Our Portland Events App for PDX Pipeline is now available for iPhones, Android phones and iPads!
Now, you can have all of the great Portland events from our website in the palm of your hand when you're out on the town.
Download the App for iPhone here
Download the App for Android here
–————————
———————————————