We are giving away a pair of tickets to The Amazing Acro-cats @ Aladdin Theatre on June 25. To win, comment on this post why you'd like to attend. Winner will be drawn and emailed Friday, June 24.
———————————————
From our sponsors: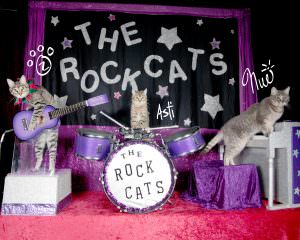 The Amazing Acro-cats
June 25 and 26, 2016
3pm & 7pm | $21-$36
More info: aladdin-theater.com
Aladdin Theater
3017 SE Milwaukee Ave, Portland OR, 97202
The Amazing Acro-cats are a troupe of REAL house cats that jump and pounce into your heart! Reaching out to shelters in need and accepting cats found homeless in the streets, Samantha Martin has not only rescued her own cats but also have found homes for over 172 cats and kittens. Giving them a second chance with positive reinforcement-only clicker training, they take these amazing abilities on the road and tour the nation in the infamous Acro-cat Bus!
Ever see a cat walk a tightrope? Meow you can! Ever see someone's pet balance and roll on a ball across the floor? Come see it here and meow! OMFG WHUT? – a cat riding a skateboard! But wait, there is so, so much more! The grand finale, presenting the ONLY ALL CAT BAND IN EXISTENCE – Tuna and the Rock Cats! The current band lineup is Tuna on Cowbell, Oz on guitar, Asti on Drums, and Nue on keyboard – Real cats purrforming with Real instruments have blown minds and educated audiences of all ages that CATS CAN ACTUALLY BE TRAINED! The Acro-cats have gained popularity on such shows like the Late Show with Stephen Colbert and on Animal Planet. You have to actually see it to believe it!
Here is what some audience members have said after watching The Amazing Acro-cats Featuring Tuna and the Rock Cats:
"My life is complete, I can die happy now"
"I never thought it was possible, but now I am convinced!"
"You know, I was never really a ca person, but maybe there's something to this…."
"That was F@$!ing Amazing!"
Here is what the media has to say about us!
– Tuna and the Rock Cats on Stephen Colbert!
– Great Article in the Guardian
– NSFChildren article on us!
A portion of our proceeds will support local foster and rescue!
House of Dreams is a no-kill, nonprofit, free-roam cat shelter run entirely by volunteers. They are 100% funded by grassroots community support. http://www.kittydreams.org/
Furry Friends No-Kill Cat Rescue, founded in 1999, is a non-profit, no-kill cat adoption organization also run entirely by volunteers. http://furryfriendswa.org/