From our sponsors: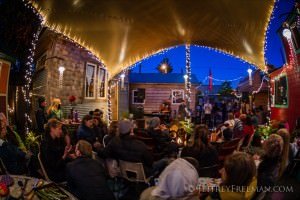 Season Two of Caravan Campfires- Songs & S'mores!
Every Wednesday Night from 7-10pm
$10, Kids 10 Under are Free
June 1st-August 31, 2016
More info: tinyhousehotel.com
Caravan- The Tiny House Hotel
5009 NE 11th Ave. (next to the Grilled Cheese Grill)
Gather around the bonfire every Wednesday evening in June, July and August from 7-10pm to listen to fantastic local bands, make s'mores, eat BBQ, and introduce our Caravan guests from around the world to our creative and inspiring Portland community. Each week, we feature well-loved local bands from different genres of the vibrant Portland music scene.
We'll provide a bonfire, fixins for s'mores (including Fair Trade chocolate and optional GF graham crackers!), and a performance by talented Portland musicians, all in the unique, funky courtyard of the first tiny house hotel in the world. Attendees can BYOB and this year, Radio Room will provide BBQ to purchase in the courtyard across the street. $10.Kids 10+ under FREE.
June 22: The Robin Jackson Band
The Saloon Ensemble has been performing all over the western states since 2005 as a core band and as a performance troop responsible for "JAWZ THE MUSICAL in 3D!," The Nitemare B4 Xmas," "ALL of BURNING MAN in a DAY," and an endless series of epic New Years Eve events and theme parties. But underneath it all, we're a band. The music we play is fun, jazzy, satirical, soulful, and highly unique with tons of original material and playful twists on popular music featuring local legends Jeremy Baron on Mandolin, Mike Danner on Accordion, Teresa Boyd on Washboard, Stacey Ludlow on Bass, Aspen Walker on Drums, Andy Shapiro on Saxophone, Richard Cawley on Zob Stick, and Jason Wells on Guitar. We are very excited to play for Caravan Campfires with an unplugged set unlike any show you've ever seen.
JUNE
June 22nd: THE SALOON ENSEMBLE
June 29th: LEWI LONGMIRE & THE LEFT COAST ROASTERS
JULY
July 6th: MOODY LITTLE SISTER
July 13th: THE JIM PRESCOTT QUINTET
July 20th: ASHER FULERO & NATHAN DAY
July 27th: LOVE GIGANTIC
AUGUST
August 3rd: MAYA DORN, LIBBY KIRKPATRICK & JANS INGBER
August 10th: SWAN SOVEREIGN
August 17th: ERIC BOHNE & FRIENDS
August 24th: TONY FURTADO
August 31s: THE UKELADIES