From our sponsors: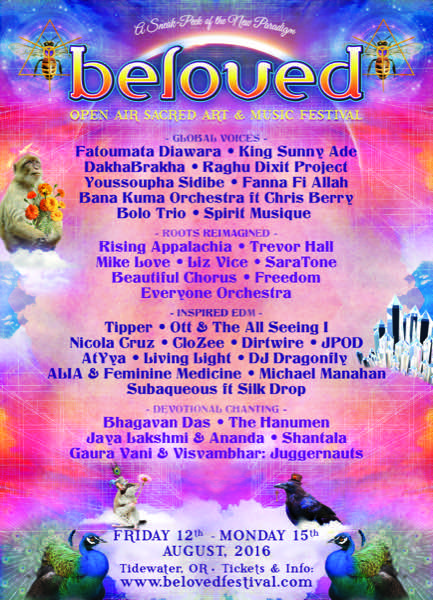 2016 Beloved Festival
August 12-15, 2016
All Ages
Full Weekend Pass $225 Early Bird
Upgrade Thursday Pass $54
Tickets: belovedfestival.com
Tidewater Falls
12154 E Alsea Hwy, Tidewater, OR 97390
Set against the deep verdant backdrop of the coastal Oregon forest, Beloved Festival is a single-stage gathering and cultural movement that is reshaping the West Coast festival experience. Since it's inception in 2008, the 4-day festival has expanded the caliber of its production, scope of its education, and renown of its musical performers.
The soul of Beloved Festival starts with the stage – a chromium-red exclamation point of joy – where some of the planet's greatest musicians speak from a broad and deep place of heartland and homeland.
Their cohesively eclectic line-up is renowned for manifesting a vibrant rhythm sanctuary on the dance floor. It's a place where the language of music becomes ineffable movement, a place where community is formed and where personal and global transformation is seeded. This year, the lineup represents over 15 traditions from over a dozen countries and two galaxies…
GLOBAL VOICES: Fatoumata Diawara / King Sunny Ade / DakhaBrakha / Raghu Dixit Project / Youssoupha Sidibe / Fanna Fi Allah / Bana Kuma Orchestra ft Chris Berry / Bolo Trio
ROOTS REIMAGINED: Rising Appalachia / Trevor Hall / Mike Love / Liz Vice / SaraTone / Beautiful Chorus / Freedom / Everyone Orchestra
INSPIRED EDM: Tipper / Ott & The All Seeing I / Nicola Cruz / CloZee / Dirtwire / JPOD / AtYya / Living Light / 
 DJ Dragonfly / ALIA & Feminine Medicine / Michael Manahan
DEVOTIONAL CHANTING: Bhagavan Das / The Hanumen / Jaya Lakshmi & Ananda / Shantala /
Gaura Vani & Visvambhar: Juggernauts
Most of the tickets have already been sold to this year's festival, and event producers expect them to sell out during, or before, the first week of August. Ticket prices will increase soon, so be sure to purchase yours today.
Beloved Festival Favorite Attractions:
A single main stage, understood as a Mandala, used to concentrate and hold the energy of the festival while over 30 musicians and bands (from 80+ year old world music legends to extreme-cutting-edge EDM producers) create a sacred and unimaginable atmosphere.
Three workshop areas each exploring one way that we're not separate: a "Mitakuye Oyasin Temple" dedicated to honoring and exploring all of our relationships and teaching authentic communication, intimacy, and boundary- setting/seeing; a "Yoga Dome" featuring leading teachers from around the country with live music; and our "Temple of A.W.E." (Ancient Wisdom Education) giving the masters of ancient traditions an opportunity to teach about the traditions presented at the festival.
A health and well-being area, including a sauna, showers, massage and bodywork offerings.
A village featuring a carefully curated selection of merchants selling thematic goods, whole foods, treats, beverages and tonics, as well as an information booth to assist patrons in their navigation of the festival and first aid booth to provide assistance to patrons with their physical, mental, and/or psychic health.