We are giving away a pair of tickets to Portland Gaylabration 2016 @ Crystal Ballroom on June 18. To win, comment on this post why you'd like to attend. Winner will be drawn and emailed Friday, June 17.
———————————————
From our sponsors: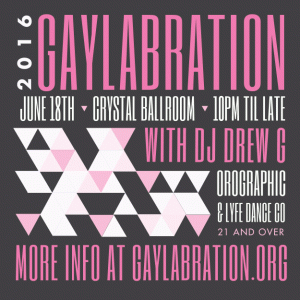 Gaylabration 2016
June 18, 2016
$15 ADV, $20 Doors, $50 VIP ADV, $60 VIP Doors
More info: gaylabration.org
Crystal Ballroom
1332 W Burnside St., Portland
Pride Northwest announces the fifth annual Gaylabration, a dance party and fundraiser and official Pride Festival event to be held Saturday June 18th, 2016 to celebrate the diversity of love and relationships in our community. All profits support the fulfillment of the Pride Northwest core mission. Gaylabration 2016 will feature premiere entertainment provided by DJ DrewG, Orographic, LYFE Dance Company, and Revol Artists, Lighting by and effects by Portland Productions.
The first Gaylabration was launched in 2011, following the passage of marriage equality legislation in New York, as a way to celebrate love and community. While the United States continued to deny same-sex couples in Oregon and throughout the nation the right to wed, our community chose to unite in support of marriage equality. Now, with LGBT rights an ever-growing issue we unite once again in celebration and support. Gaylabration has also evolved to become the featured Saturday night dance party of Pride weekend and therefore expanded its mission to include enhancing the dance music scene in Portland by bringing in premier DJs and production.
DJ DrewG
There are few sounds on the DJ circuit today as fresh and innovative as those of DrewG and his Dirty Pop brand. Based in San Diego, but constantly being heard out on the road, this prolific DJ and music producer continues to push dance floors to the limit in clubs both in the U.S. and abroad.
DrewG's trademark "Dirty Pop" brand and production team (with fellow producer Brian Cua) falls under the distinct umbrella of SoCal House — a blend of house, circuit, and EDM… all accompanied by the hottest vocals from the biggest names in music. The Dirty Pop brand also encompasses the No. 1 traveling dance party in the U.S., as well as the Dirty Pop apparel line.
Sonic boundaries mean nothing to DrewG – he breaks them week in and week out — thriving on the unexpected and never ceasing to surprise. A Dirty Pop live set is infused with relentless energy. Hard kicks and dark electro drops — set to both new vocals and classics — are common trademarks. DrewG flows in and out of tracks flawlessly and fans never see what might be coming.
DrewG's production work is no stranger to the top of the Billboard Club Charts. Drew and Brian together have procured official remixes for some of the hottest music artists in the world, including Lady Gaga, Whitney Houston, Ke$ha, Britney Spears, Deborah Cox, and Mary J. Blige… just to name a few.
IZOHNNY
Orographic
Orographic grew up sneaking off to parties in the New England rave scene and collecting illegal mix tapes from DJs. Inspired by the urgent sounds and energetic temples of dance music Orographic built his own DJ gear from a hodge-podge of electronics and has DJing ever since. In his sets he weaves together a seamless sound that travels from house to disco cuts to strange techno to outerspace magic and even some rave classics. For Orographic it's about sharing a musical story that's both fun and strange. You can find Orographic playing up and down the coast in dimly lit basements, sunny patios, and everywhere in between. Orographic is the co- organizer of Queerlandia, a founding member of Bridge Club, resident at Family Home Evening and the man behind Spookitinis.
LYFE Dance Company
Under the Artistic Direction of Durante Lambert. LYFE Dance Company, formally known as The Detail has been a training ground for developing dancers; creating a segue into the professional field. These dancers have had the opportunity to perform for sold out audiences since 2005. Known as the premiere, Portland based, Hip Hop Company of the Northwest; famed for it's incomparable athleticism, energy, innovative choreography and visual effect. This passionate group of dancers have trained extensively in many styles including African, Hip Hop, Contemporary/Modern, Jazz, Ballet, and Tap. Many of them have performed professionally for companies such as the Northwest Afrikan American Ballet, The Portland Trail Blazers (NBA), The Portland Fire (WNBA), Jefferson Dancers, and have been featured in industrial shows for Nike and Columbia Sportswear. Many of LYFE's dancers have done music videos and gone on tour with artists such as Britney Spears, Jessica Simpson, Black Eyed Peas, Lady Gaga, Snoop, Ne-Yo, Usher, Cassie, Missy, Ciara and more.
REVOL Artists
REVOL ARTISTS was created from the group Just Hoopers. Originally a collaboration with our friends, the band Just People, Just Hoopers began to take on a life of its own. Our vision is to inspire communities to unite through innovative collaborations and movement. REVOL ARTISTS has a focus in unforgettable ambiance and choreographed hula hoop entertainment.