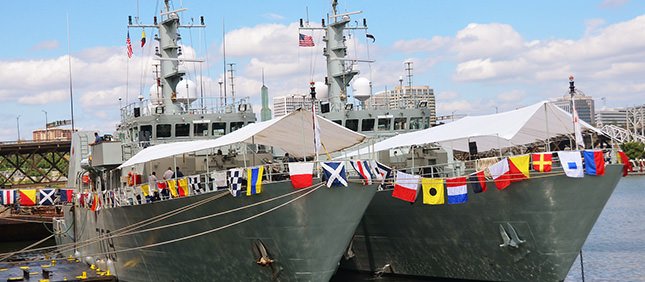 The 2016 Portland Fleet Week kicks off June 8! Ships coming in will cause some traffic delays due to bridge openings, and you will also be able to tour many of these vessels. Even the Canadians are coming! Ship tours are free.

———————————————
Related Portland Events & Info
———————————————————————————
From website:

2016 Portland Rose Festival Fleet Week
June 8-12, 2016
9:30 a.m. – 3:30 p.m. | FREE
More info + Map: rosefestival.org
Location: Along Tom McCall Waterfront Park's esplanade seawall from the Steel Bridge to Salmon Springs Fountain.
Trimet info: trimet.org
Since the very beginning of the Rose Festival back in 1907, visiting ships and other fleet-related elements (like submarines) have been making their way to Portland's waterfront. The City of Portland is known to be a favorite port of call for military (and non-military) visitors — and citizens enjoy making these visitors welcome! One of the purposes of Fleet Week has always been to celebrate and thank the active and reserve military personnel and all veterans.
The Portland Rose Festival is extremely fortunate to be one of a few U.S. Ports of Call for a courtesy visit from the U.S. Navy, U.S. Coast Guard, and Royal Canadian Navy. Their arrival commemorates a relationship with the Navy that has lasted more than 100 years, and over 80 years of visiting Portland during the Rose Festival. It is a significant commitment by the Navy to make the Rose Festival Fleet Week one of the premier Fleet Week events in the country.
2016 Visiting Ships
US Navy
USS Russell
USS Howard
USS Champion
Royal Canadian Navy
HMCS Edmonton
HMCS Brandon
Coast Guard
USCGC Steadfast
USCGC Swordfish
USCGC Fir
USCGC Henry Blake
USCGC Bluebell
Historic Ships
Sternwheeler Portland
PT 658 — World War II PT-625-class Higgins 78-foot PT boat, 1945
Game Warden – Patrol Boat River (PBR)
SHIP VISITING AND TOURS
Admission is FREE
Public tours will be on a first-come basis
NOTE: Visitors may be subject to personal search. No bags, strollers or wheelchairs will be allowed onboard. There will NOT be any 'holding area' for personal items. Visitors MUST be able to maneuver onboard the ships, including climbing narrow ladders.
———————————————————
Portland Fleet Week Pictures:

The boats are coming the boats are coming
2011 Photo by Squid Vicious

A Break in the Rain
2010 Photo by Don Pyle

Let's Play Battleship
2010 Photo by markofphotography

USS Bunker Hill CG52 ~ Fleet Week
2010 Photo by Don Pyle

Fleet Week Portland
2008 Photo by M-Eyes

Fleet Week
2008 Photo by xtaxta

city under siege
2006 Photo by carolyn_in_oregon
———————————————
Our new Portland Events App for PDX Pipeline is now available for iPhones, Android phones and iPads!
Now, you can have all of the great Portland events from our website in the palm of your hand when youíre out on the town.
———————————
———————————————