We are giving away a pair of tickets to Portland Tour de Hives on June 26-26. To win, comment on this post why you'd like to attend. Winner will be drawn and emailed Monday, June 20.
———————————————
From our sponsors: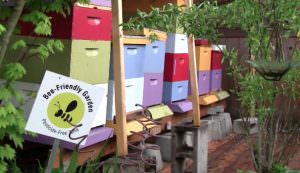 Tour de Hives
June 25-26, 2016
$10
More info: tourdehives.com
Fed up with facial hair and fixies? Blasé about backyard chickens? Maybe what you need is a pollinator's eye view of Portland's latest obsession. Despite global worries over Colony Collapse Disorder, honey bees are thriving across our city. On June 25 and 26, local beekeepers invite you to visit their hives and learn the how and why of urban beekeeping.
"Bees can get a bum rap," acknowledges Bill Catherall, president of Portland Urban Beekeepers, the local education, outreach, and advocacy organization that sponsors the annual Tour de Hives event. "But there's no reason to be afraid. Beekeepers live safely with hundreds of thousands of honeybees in the hives around our homes. Our ecosystem depends on them, our gardens thrive because of them, and our families and friends are fascinated by watching them. Each year, we offer Tour de Hives as a way to educate the public about these wonderful creatures."
The tour of backyard hives has proved so popular that this year, it's expanding into a two-day event, featuring bee hives in North and Northeast Portland on Saturday, June 25, and bee hives in Southeast Portland on Sunday, June 26. Tickets are $10 and are good for both days. With your ticket, you get a map, so you can plan your own tour route among the hives on display. Of course, Portland being Portland, some Tour de Hives hosts also have chickens or mason bees, plus beautiful gardens to admire when you go. For more information and to purchase tickets, visit https://tourdehives.com
Some people go on Tour de Hives out of simple curiosity. Others are preparing to become beekeepers themselves. Portland novelist Lois Leveen went on Tour de Hives in 2013, while researching a book set in medieval Italy in which one character was a beekeeper. "I just fell in love with what I saw," Leveen says. "The sights, sounds, and smells of the hive were so powerful, the bees became a huge part of my novel, and my life." She ended up with two hives in her yard, and she became an advocate on local beekeeping ordinances.
"We don't expect everyone who attends to decide to be a beekeeper," Catherall acknowledges. "It's a fun event for families, a great way to learn about the importance of pollinators, and a fundraiser for the bee lab at Oregon State University, which does research to improve the survival of bees locally and around the world." Need one more reason to attend? Some beekeepers sell honey produced by their hives, so you can get a sweet taste of the beekeeping lifestyle.
About Portland Urban Beekeepers:
Portland Urban Beekeepers (PUB) is a non-profit organization of beekeepers that provides community, advocacy, and education for those interested in raising honey bees and supporting their presence in the environment. PUB is an official chapter of the Oregon State Beekeepers Association, and welcomes the public to their free monthly meeting on the first Wednesday of every month. http://portlandurbanbeekeepers.org/