From our sponsors: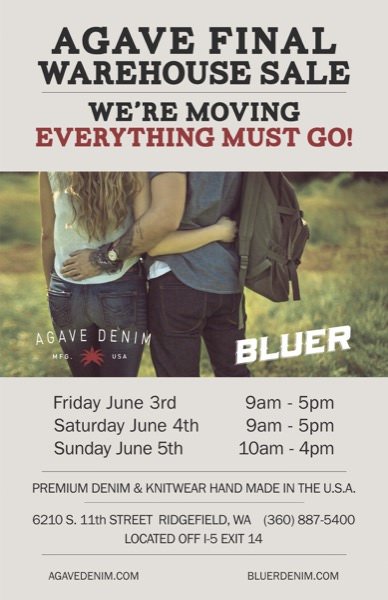 Agave & Bluer Final Warehouse Sale
June 3-5, 2016
Friday & Saturday 9 a.m. – 5 p.m.
Sunday 10 a.m. – 4 p.m.
More info: agavedenim.com
Agave Denim Factory Warehouse
6210 S 11th St, Ridgefield, WA
Great deals on Agave Denim jeans, knitwear, sweaters, jackets + more for men & women.
ALL JEANS AND KNIT TOPS ARE MADE IN THE USA.
Great deals on Bluer Denim jeans and products.
This is Agave's final warehouse sale as they are moving – Everything Must Go!