We are giving away a pair of tickets to on July 23 . To win, comment on this post why you'd like to attend. Winner will be drawn and emailed Monday, July  11.
———————————————
From our sponsors: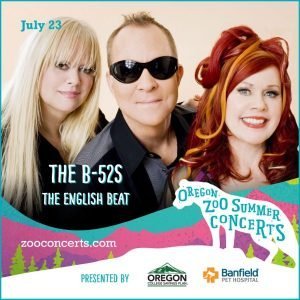 The B-52s
July 23, 2016
Doors: 5 pm / Show: 7 pm | $34.50 – 94.50 | All Ages
Tickets: zooconcerts.com
Oregon Zoo Summer Concerts
4001 SW Canyon Rd, Portland, OR 97221
(503) 226-1561
The B-52s
It is well known that the B-52s are the World's Greatest Party Band. And thirty years and over twenty million albums into their career, there can be no doubt as to why The B-52s remain among the most beloved rock stars ever. Any mystery concerning the longevity and ongoing appeal of the band is immediately solved when exposed to a unique B-52s concert experience. From the timeless gems of "Rock Lobster," "Planet Claire" and "Private Idaho" to the more recent classics "Channel Z," "Love Shack" and "Roam", the B-52s' unforgettable dance-rock tunes start a party every time their music begins.
Formed on an October night in 1976 following drinks at an Athens, GA, Chinese restaurant, the band played their first gig at a friend's house on Valentine's Day 1977. Naming themselves after Southern slang for exaggerated 'bouffant" hairdos, the newlychristened B-52s (Fred Schneider, Kate Pierson, Keith Strickland, Cindy Wilson and Ricky Wilson) began weekend road trips to New York City for gigs at CBGB's and a handful of other venues. Before long, their thrift store aesthetic and genre-defying songs were the talk of the post-punk underground. A record deal soon followed and their self-titled debut disc, produced by Chris Blackwell, sold more than 500,000 copies on the strength of their first singles, the garage rock party classic "Rock Lobster," and "52 Girls." The B-52s began to attract fans far beyond the punk clubs of the Lower East Side — galvanizing the pop world with their 'stream-of-consciousness' approach to songwriting and outrageous performance. They had clearly tapped into a growing audience for new music that was much larger than anyone could have anticipated. "We always appealed to people outside the mainstream," says Kate Pierson, "and I think more people feel they're outside the mainstream these days."
The English Beat
The English Beat is a band with an energetic mix of musical styles and a sound like no other. The band's unique sound has allowed it to endure for nearly three decades and appeal to fans, young and old, all over the world.
When The English Beat (known simply as The Beat in their native England) rushed on to the music scene in 1979, it was a time of massive social and political unrest and economic and musical upheaval. This set the stage for a period of unbridled musical creativity, and thanks in large part to the Punk movement and it's DIY approach to making music, artists like The Beat were able to speak out and speak their mind on the news of the day, as in "Stand Down Margaret", things that mattered to them and the youth culture, as in "Get A Job", and universal matters of the heart and soul, as in their classic hits "I Confess" and "Save It For Later".
The original band consisted of singer-songwriter Dave Wakeling on vocals and guitar, Andy Cox on guitar, David Steele on bass, and Everett Morton on drums – later additions Ranking Roger (toasting) and foundational First Wave Ska legend Saxa (saxophone) completed the outfit. The band crossed over fluidly between soul, reggae, pop and punk, and from these disparate pieces they created an infectious dance rhythm.
Oregon Zoo Summer Concerts are presented by the Oregon College Savings Plan and Banfield Pet Hospital.