From our sponsors: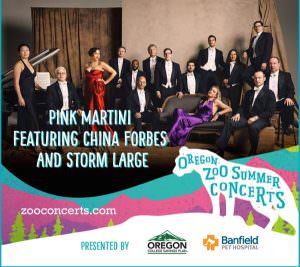 Pink Martini featuring China Forbes and Storm Large
August 5 & 6, 2016
Doors: 5 pm / Show: 7 pm | $35.50 – $95.50 | All Ages
August 5: zooconcerts.com
August 6: zooconcerts.com
Oregon Zoo Summer Concerts
4001 SW Canyon Rd, Portland, OR 97221
(503) 226-1561
"Pink Martini is a rollicking around-the-world musical adventure… if the United Nations had a house band in 1962, hopefully we'd be that band."
– Thomas Lauderdale, bandleader/pianist
In 1994 in his hometown of Portland, Oregon, Thomas Lauderdale was working in politics, thinking that one day he would run for mayor. Like other eager politicians-in-training, he went to every political fundraiser under the sun… but was dismayed to find the music at these events underwhelming, lackluster, loud and un-neighborly. Drawing inspiration from music from all over the world – crossing genres of classical, jazz and old-fashioned pop – and hoping to appeal to conservatives and liberals alike, he founded the "little orchestra" Pink Martini in 1994 to provide more beautiful and inclusive musical soundtracks for political fundraisers for causes such as civil rights, affordable housing, the environment, libraries, public broadcasting, education and parks.
The band has collaborated and performed with numerous artists, including Jimmy Scott, Carol Channing, Jane Powell, Rufus Wainwright, Martha Wainwright, Henri Salvador, Chavela Vargas, New York performer Joey Arias, puppeteer Basil Twist, Georges Moustaki, Michael Feinstein, filmmaker Gus Van Sant, Courtney Taylor Taylor of The Dandy Warhols, clarinetist and conductor Norman Leyden, Japanese legend Hiroshi Wada, Italian actress and songwriter Alba Clemente, DJ Johnny Dynell and Chi Chi Valenti, Faith Prince, Mamie Van Doren, the original cast of Sesame Street, the Bonita Vista High School Marching Band of Chula Vista, California, the Portland Youth Philharmonic, and the Pacific Youth Choir of Portland, Oregon. Singer Storm Large began performing with Pink Martini in March 2011, when China Forbes took a leave of absence to undergo surgery on her vocal cords. Forbes made full recovery and now both she and Large continue performing with Pink Martini.
Pink Martini has an illustrious roster of regular guest artists: NPR's All Things Considered host, Ari Shapiro, Cantor Ida Rae Cahana (who was cantor at the Central Synagogue in NYC for five years), koto player Masumi Timson, harpist Maureen Love, and Kim Hastreiter (the publisher/editor-in-chief of Papermagazine).
Oregon Zoo Summer Concerts are presented by the Oregon College Savings Plan and Banfield Pet Hospital.