From our sponsors: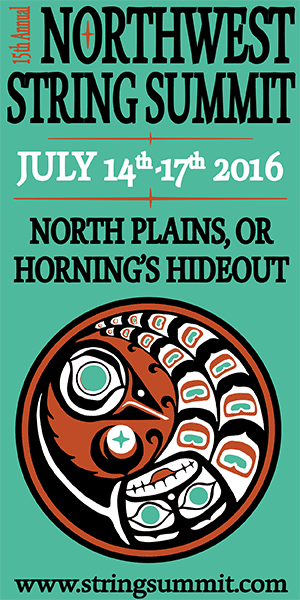 Northwest String Summit
July 14-17, 2016
More Info & Tickets: stringsummit.com
Horning's Hideout
21277 NW Brunswick Canyon Rd North Plains, OR 97133
The 15th Annual Northwest String Summit (NWSS) returns to Horning's Hideout (North Plains, OR) with the finest acoustic pickers and standout electric bands from July 14- 17, 2016. Located just 20 miles outside of Portland, OR, Horning's Hideout stands as one of the most scenic festival sites in the country; NWSS is the only music offering this year taking place at Horning's Hideout. A family-friendly and locally-sourced festival, NWSS caps its capacity at 5000 attendees to ensure an intimate experience for all festival-goers at an incredible ticket price. For more detailed information, please visit: www.stringsummit.com.
Lineup includes
Three Nights of Yonder Mountain String Band
Greensky Bluegrass x2, Leftover Salmon x2, Railroad Earth
The Infamous Stringdusters x2, Keller Williams with More Than A Little,
Keller Williams' Grateful Gospel, Steep Canyon Rangers, Fruition x2, Shook Twins x2,
Brothers Comatose, Polyrhythmics, Danny Barnes, Ben Sollee, John Craigie (2015 Band Competition Winner), Billy Strings x2, Cabinet x2, Wood & Wire x2, Taarka, Horseshoes & Hand Grenades, Rabbit Wilde, Lowest Pair,
and so many more to be announced!
String Summit event promoter Skye McDonald comments about the forthcoming festival, "This year is our 15th Anniversary and we're pulling out all the stops! The Northwest String Summit at Horning's Hideout is such a special festival destination that we're inviting out all our friends and core bands for the party! Many for multiple days as to properly soak it all up, and in turn, give us more magnificent musical magic morning, noon and night! The addition of the Kinfolk Revival Tent was an enormous hit and will be coming back to give even more programming from movies and documentaries, to daytime artist workshops, to late night sets with our favorite bands! Cascadia will be ramping up the programming offerings as well providing music from 8AM until 3PM Friday thru Sunday and late night after Main Stage Thurs thru Saturday. In such a lovely and cozy nook of the woods, the sets here have proven to be some of the most memorable of the weekend.
At NWSS, it is evident that family is paramount; from our family-friendly environment, to our extended musical family that makes the yearly reunion of friends and neighbors such the very positive experience that is has become. We love the kiddos at NWSS and we are making arrangements to enhance their stay (and yours) so much more this year. Look for announcements on what activity additions your youngin' can expect this summer. Be on the lookout for more artistic and interactive installations in the works for this year thanks to our awesome art teams in Tyler Fuqua Creations, Ghost Stag, Vestiks among others! So much to going on we cannot wait for July and our 15th Anniversary!
We are also ecstatic to announce the "Return of the Peacock"! Our friends at EPICCREATIVE are at it again! They are busy in the editing room working away at a follow up to 2013's award winning documentary on the Northwest String Summit "Turn Left At The Peacock". Return of the Peacock is a documentary featuring the music of the Northwest String Summit, including Yonder Mountain String Band, Greensky Bluegrass, The Infamous Stringdusters, Keller Williams, Elephant Revival, Fruition and more! Click on the graphic above for a preview and watch for additional trailers and full songs from the 2015 String Summit coming soon! Full documentary to be premiered and released on July 13th at the NWSS Kickoff Party & Premiere at the Aladdin Theater in Portland, OR with a set of music from Fruition. The only way to get access to this event is to buy the Premiere 4-Day Pass Package.