From our sponsors: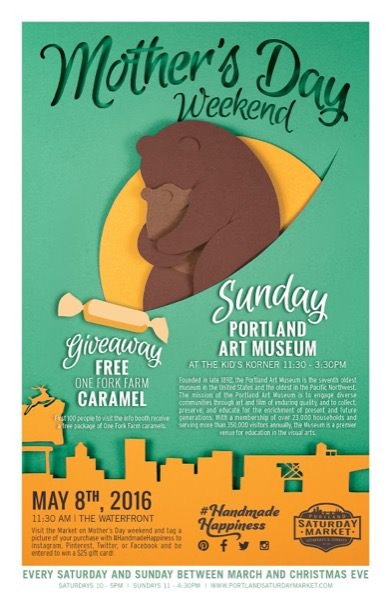 2016 Portland Mother's Day Weekend
May 8, 2016
11:30 a.m. | All Ages
More info: portlandsaturdaymarket.com
Portland Saturday Market
2 SW Naito Pkwy, Portland, Oregon 97204
Giveaway- FREE to the first 100 people to visit the Info Booth, a package of One Fork Farm caramels.
Kids' Korner 11:30-3:30: Portland Art Museum
Founded in late 1892, the Portland Art Museum is the seventh oldest museum in the United States and the oldest in the Pacific Northwest.
The mission of the Portland Art Museum is to engage diverse communities through art and film of enduring quality, and to collect, preserve, and educate for the enrichment of present and future generations.
With a membership of over 23,000 households and serving more than 350,000 visitors annually, the Museum is a premier venue for education in the visual arts
Contest: Tag a picture of your purchase with #handmadehappiness to Instagram or Twitter and be entered to win a $25 gift card!