From our sponsors: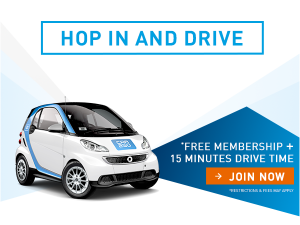 Hop in and Drive w/ Car2Go
Free registration +15 minutes drive time*

Use Code C2G15 at car2go.com
What is car2go?
We're how you get there. Where you go is up to you.
car2go gives you the convenience and flexibility of owning a car, without any of the related costs or hassles.
At only $0.41 per minute and without parking charges, fuel costs, or additional insurance, your only question should be: "Where to next?"
Limited-time only – FREE membership: Join for free (regularly $35) + get 15 minutes of drive time*
Already a Member?
Spend $100 in drive time (excluding fees and taxes) in the month of May 2016 and receive 20 minutes in drive time. To redeem, email your membership information to [email protected]. Offer only valid in Portland until June 15th, 2016. One redemption per member. Drive time will be valid in Portland for 45 days from the date of issuance. This offer is not redeemable for cash or other credit.
Existing members can earn more minutes every time they refer a friend too. 20 minutes for each friend who becomes a member- info at https://friends.car2go.com/na
*Restrictions and fees may apply.