From our sponsors: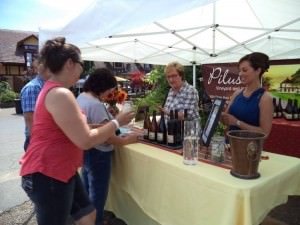 Cascade Foothills Winegrowers Presents Taste. Learn. Celebrate
April 30, 2016
1-5 p.m. | $10 | 21+
More info: cascadefoothillswine.com
Mount Angel Festhalle
500 Wilco Highway Northeast, Mt Angel, OR 97362
taste. learn. celebrate. — an educational event about wine and grape growing presented by local winemakers as they kick off Oregon Wine Month
Cascade Foothills Winegrowers is proud to present "taste. learn. celebrate.", a public tasting event that showcases the family-grown, cool-climate wines of the Willamette Valley's east side. Enjoy more than just Pinot Noir along uncongested country roads a mere 30 minutes Southeast from Portland. The Cascade Foothills are nestled in the slopes of Mount Hood in Oregon's Willamette Valley and provide the soil and geography ideal for growing wine grapes. With more than 1,500 acres of vines, this 30 year old wine growing region provides grapes for many of Oregon's most successful and talked about wineries.
The event takes place on Saturday, April 30 from 1–5 pm at the Festhalle in Mount Angel, Oregon. Tickets are available for $10 per person from cascadefoothillswine.com and include ten wine tastes and an afternoon of music and wine education.
Yes, there is outstanding Pinot Noir and Pinot Gris.
But you will also find- Albarino, Cabernet, Chardonnay, Champagne, Dolcetto, Gamay Noir, Gewurztraminer, Marechal Foch, Merlot, Muscat, Port, Primativo, Riesling, Syrah, Tempranillo, and Fruit Wines. An affordable Oregon wine experience; the wineries of the Cascade Foothills are relaxed, friendly, unpretentious and welcoming of guests no matter their experience with wine. Wine lovers will be able to mingle with the winemakers, learn about the process of making wine in the Cascade Foothills, and enjoy hard-to-find-wines. Tractors, bottling lines, corkers and labelers will be on display as we show how wine goes from grape to bottle.
In addition, Cascade Foothills Winegrowers – formerly known as the East Willamette Winery Association – take this opportunity to celebrate our new name and our ongoing commitment to artisinal winemaking and our personal connection to the people of the Pacific Northwest. This event also marks our kick-off of Oregon Wine Month.
We invite our fellow Oregonians to discover the uncrowded byways of our unique winegrowing region, just minutes from the center of Portland.
The participating wineries are: Alexeli, Aurora Cellars, Christopher Bridge, Forest Edge, Hanson, King's Raven, Pheasant Run, Piluso, Pudding River, Silver Falls, St. Josef's, Villa Catalana, Vitis Ridge, Whiskey Hill, and Wooden Shoe.
About the Cascade Foothills Winegrowers
The Cascade Foothills Winegrowers is a collection of small, independent, vineyard- driven, winemakers with agricultural roots dating back more than a hundred years.
Here, in a meandering path along the foothills of the Cascade Mountains, visitors will find Oregon wine's recreational side. Relaxed tasting rooms are nestled along uncongested routes with hiking, fishing, diverse farms and gardens that offer comfortable settings for the exploration of fine wine.
From Oregon City to the Silverton Hills, the Cascade Foothills has been home to some of Oregon's wine pioneers including St Josef's (planted 1978), Alexeli (formerly Marquam Hill) and some of its notable newcomers – including Piluso Vineyard where Sandee Piluso, the first female graduate of the Chemeketa Wine Studies Program – continues to make fine wines.