From our sponsors: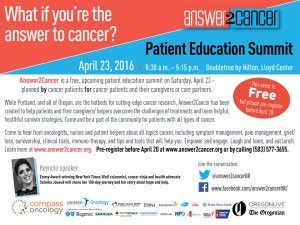 "What if you're the answer to cancer?"
April 23, 2016
8 a.m. Doors, 8:30 a.m. – 5 p.m. | Free
RSVP by April 20 at answer2cancer.org
Doubletree by Hilton
1000 N.E. Multnomah Blvd., Portland, OR 97232
A free event is asking, "What if you're the answer to cancer?" Answer2Cancer is a free, fun patient education event – planned by cancer patients for cancer patients, families and caregivers.
While Portland, and all of Oregon, are the hotbeds for cutting-edge cancer research, Answer2Cancer has been created to help patients and their caregivers/ helpers overcome the challenges of treatments and learn helpful, healthful survivor strategies. Come and be a part of the community for patients with all types of cancer.
Come to hear from oncologists, nurses and patient helpers about all topics cancer, including symptom management, pain management, grief/loss, survivorship, clinical trials, immuno-therapy, and tips and tools that will help you. Empower and engage. Laugh and learn, and eat lunch.
COST: Free to all attendees. Lunch is included for free. This event is intended to provide resources and information for patients and their families/caregivers. No selling/solicitation of products or services will take place.