We are giving away a pair of tickets to Elephant Revival @ Wonder Ballroom on April 9. To win, comment on this post why you'd like to attend. Winner will be drawn and emailed Friday, April 8.
———————————————
From our sponsors: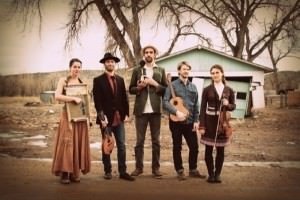 Elephant Revival
April 9, 2016
Doors 8 p.m., Show 9 p.m. | $25 | 21+
Tickets: aladdin-theater.com
Wonder Ballroom
128 NE Russell St, Portland, OR 97212
Where words fail … music speaks." That simple line atop Elephant Revival's Facebook page contains only five words, but reveals volumes about the band's reason for being. Music unites us in ways that no other medium can. Even when we don't understand one another's languages — we can be moved by a rhythm, soothed by a song. Brought together by a unified sense of purpose — the spirit of five souls working as one, in harmony, creating sounds they could never produce alone. The five souls in Elephant Revival are Bonnie Paine (washboard, djembe, musical saw, stompbox); Bridget Law (fiddle, octave fiddle); Charlie Rose (banjo, pedal steel, guitar, horns, cello, double bass); Dango Rose (double bass, mandolin, banjo); and Daniel Rodriguez (guitar, banjo, double bass). This Nederland, Colo., quintet are, needless to say, quite a sound to be experienced — especially when they fall into the pocket of a groove containing elements of gypsy, Celtic, Americana, and folk. The Indie Acoustic Music Project simply labeled their sound "progressive edge." At least, that' s the category in which it placed the band when it gave their Ruff Shod/Nettwerk Records release, BREAK IN THE CLOUDS, a best CD of 2011 award. Elephant Revival's later THESE CHANGING SKIES (Thirty Tigers) release went on to win best CD of 2013 in the same category. It's as good a label as any to convey what Dango Rose has described as their mission: "to close the gap of separation between us through the eternal revelry of song and dance." Elephant Revival also shares a commitment to responsible stewardship of the planet and its inhabitants, working with organizations such as the Conscious Alliance, Calling All Crows, Trees Water & People, and other nonprofits supporting humanitarian causes. Their very name was chosen out of empathy for a pair of zoo pachyderms who, upon being separated after 16 years, died on the same day. The band related that heart-rending story during their April 2012 debut on fellow Coloradans Nick & Helen Forster's internationally syndicated "eTown" radio show — like Elephant Revival, a blend of music and social consciousness. Sitting in the audience during their performance, one music blogger was moved to write, "Elephant Revival serenaded the crowd with arabesque melodies, harmonies and rhythms that braided and coiled into a sublime aural tapestry. Their instrumental dynamics, verse, and even the harrowing story that inspired their appellation, invoked the majesty, mystery and sorrow of Mother Earth."
Campout for the Cause festival organizers put it this way in an affectionate shoutout on their Facebook page. " We love Elephant Revival so much," they wrote, "not just for their incredible music and conscious lyrics, but for their commitment to living up to the standards they set forth and setting positive examples." It's a paradigm worth spreading, and that's what Elephant Revival members intend to continue doing as they carry their music around the world, speaking one song at a time.
Mandolin Orange
Mandolin Orange makes music that WNYC describes as being "laced with bluegrass, country and folk…often wistful and contemplative without being somber, and always firmly grounded in the South." The duo, comprised of Andrew Marlin and Emily Frantz, have just announced the May 5 release of Such Jubilee, their second studio album for Yep Roc Records.
The group's 2013 debut for Yep Roc, This Side of Jordan, was released to critical acclaim which included coverage from American Songwriter, Magnet and a coveted year-end spot on NPR's list of Top 10 Folk & Americana Releases. In 2014 the duo played sold-out shows across the country alongside many festivals, including Merlefest, Newport Folk Festival and Pickathon.