From our sponsors: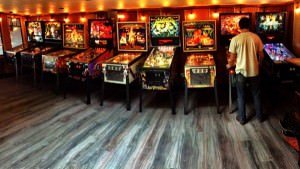 Pinball @ Blackbird Pizza
More info: Facebook | blackbirdpizzapdx.com
Blackbird Pizza
1935 SE Hawthorne Blvd, Portland, Oregon
There are arcades…and then there is BLACKBIRD PIZZA's arcade. If you haven't seen it yet, hold on to your hat for what's being called the best pinball room in Portland. Bring down the whole family for a evening of fun & games featuring something for everyone including Buck Hunter, Mortal Kombat and Ms. Pac Man.
Speaking of family, nosh your faces on Blackbird Pizza's family special, featuring a large pizza of your choice plus your choice of Large Salad or Garlic Knots for only $30! Available Monday – Thursdays 5-9 p.m. (dine in only).
Blackbird Pizza features a menu of Vegan & Gluten Free Pizzas + a wide range of pasta, salads & sandwiches!
Happy hours is every day from 4-8 p.m.!