From our sponsors: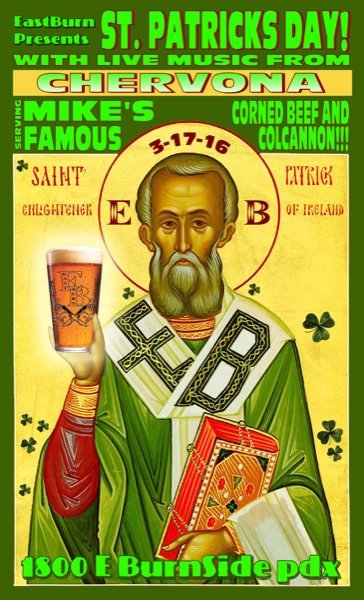 St Patrick's Day
March 17-19, 2016
More info: Facebook
The EastBurn
1800 E Burnside St, Portland, OR 97214
(503) 236-2876 | More info: theeastburn.com
This year we thought we would step it up a bit and make St Patricks day a weekend long event! Kicking off the weekend on Thursday we have Chervona live at 9pm then Sky In The Road on Friday at 10pm and Zachary Kibbee on Saturday at 10pm! All of there info will be available on our website.
We have food and drinks specials going the whole weekend including brunch and Mike is making his famous corned beef and colcannon! We sold out last year before 7pm so we will be making way more this year. Happy St Patricks Day Portland let's do this up right!