From our sponsors: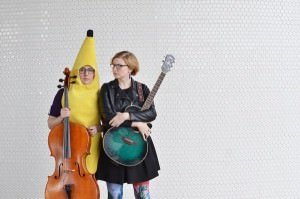 The Doubleclicks Show
March 14, 2016
9:30 p.m. | $5-10 | All Ages (but not kid friendly)
More info: brownpapertickets.com
Brody Theater
16 NW Broadway, Portland, OR 97209
The Doubleclicks Show is a monthly variety show that is part sketch, part stand-up, and part musical. It's like if Portland's own nerdy folky comedy sister musical duo the Doubleclicks hosted SNL once a month, and everyone on the show was sort of a nerdy feminist Portlander.
The second show is MARCH 14 at 9:30pm at the Brody Theater in Portland. It will include: stand-up comedy by the hilarious, storytelling award-winning, video game youtuber CAITLIN WEIERHAUSER & hilarious, social-justice-show producing, dog-loving, killer boss comedy festival performer ANDIE MAIN, plus sketches by the amazing squad of sketch comedy humans: Richard Malena, Lucia Fasano, Kyle McCormick and Kevin M. Arnold!