From our sponsors: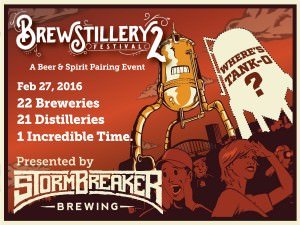 Brewstillery Festival
February 27, 2016
Noon – 8 p.m. | $25 ADV, $30 Doors | 21+
Tickets: stormbreakerbrewing.com
Stormbreaker Brewing
832 N Beech St, Portland, Oregon 97227
Breweries and Distilleries teaming up to create the perfect pairings. Each pairing will consist of a 4oz beer pour and a 1/4 oz spirit taste. Only like beer? Then just drink beer. You can pick and choose, although we strongly recommend going for the pairing. Tix on sale now!
Even bigger this year with 22 breweries and 21 Distilleries!
Here is the pairing list:
Baerlic/Rolling River; Barley Browns/Stein; Base Camp/North Coast; Breakside/Thomas&Sons; Cascade/House; Coalition/New Deal; Commons/Stone Barn; Culmination/4 Spirits; De Garde/Ransom; Double Mountain/Hood River; Ecliptic/Clear Creek; Ex Novo/Parliament; Fat Head's/Big Bottom; Gigantic/Ransom; Ground Breaker/Vinn; Humble/Tualitin Valley; Laurelwood/Indio; Migration/House; Pfriem/Camp 1805; Upright/Eastside; Wild Ride/Bend Distillery; StormBreaker/Bull Run; StormBreaker/Wild Roots