From our sponsors: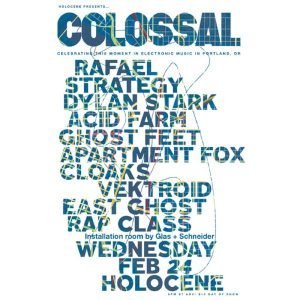 COLOSSAL: Celebrating This Moment in Electronic Music in Portland, OR
February 24, 2016
7:30 p.m. | $7 ADV, $10 Doors | 21+
More info: holocene.org
Holocene
1001 SE Morrison St, Portland, OR 97214
COLOSSAL is a one-night festival, curated and hosted by Holocene, showcasing this current moment in electronic music here in Portland, OR.
The renaissance of our local electronic scene is nothing new, as Portland's stereotype as an indie rock town starts to fade away and make room for new genres. Yet we're seeing a level of quality and a level of abundance in this scene that we feel is cause for celebration right about now.
As lovers and nurturers of Portland's electronic scene since our first days as a venue, we want to bring the community together and celebrate a scene that has grown COLOSSAL.
From hardware-based knob twirlers to laptop artistes, from ambient ethereal soundscapes to driving house beats….COLOSSAL will immerse audiences in the wealth of electronic music that Portland has to offer.
We hope that tonight's event is just the first one in a recurring series.
Live performances by:
Rafael (Miracles Club)
Strategy
Dylan Stark
Acid Farm
Ghost Feet
Apartment Fox
Visible Cloaks
Vektroid
EASTGHOST
Rap Class
Installation room by: Glas + Schneider
Live visuals by: Daneover