From our sponsors: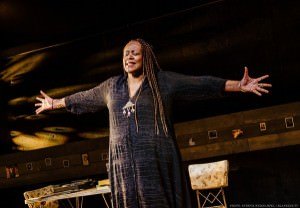 FOREVER
January 30 — March 20, 2016
Evenings: Tuesday – Sunday at 7:30 p.m.
Matinees: Saturday and Sundays at 2 p.m.,
Thursdays at noon
16+ | All Seats $30 with code PIPELINE
More info: pcs.org/forever
Gerding Theater at the Armory
128 NW Eleventh Avenue
Portland, Oregon 97209
Forever begins in Paris at the famed Père Lachaise Cemetery, where strangers from around the world make pilgrimages to the graves of legendary artists such as Marcel Proust, Richard Wright and Jim Morrison. As she visits the resting places of her idols, Orlandersmith is moved to investigate the complex legacy she received from her mother and their often harrowing life together. Riveting and powerful, Forever is about family – the ones we are born into; the strange way powerful bonds are formed with people who, though unrelated by blood, come to feel like family; and the legacies that shape us all.
Portland Center State Presents Forever @ Gerding Theater at the Armory