From our sponsors: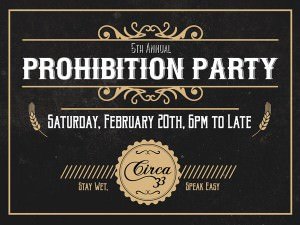 Prohibition Party
February 20, 2016
7 p.m. | No Cover | 21+
More info: Facebook |  circa33.com
Circa 33
3348 SE Belmont St, Portland, OR 97214
Circa 33 is proud to host their 5th annual Prohibition Party on Saturday, February 20, 2016. Celebrate the repeal of prohibition with craft cocktails, live music, speakeasy gin-joint festivities, and 1930s costumes!
The annual event, one of Circa 33's largest parties of the year, will kick off at 7pm, with live music by Basso à Deux, starting at 8pm. The jazzy duo will be performing 1930s flapper songs, cocktail party classics, and traditional bootlegger folk music.
Themed craft cocktails and food are available for one night only, with an emphasis on classic cocktails and antique recipes that were popular in the 1930s. Drinks such as the Ada Coleman (circa 1899) and Monkey Gland (circa 1920) will be available, as well as dishes nostalgically named, such as the Hotsy Totsy, Oliver Twist, and wooden nickel.
A photo booth for all prohibition era dressed patrons will be available from 8-9:30pm. 1930s style attire such as flapper dresses, zoot suits, and bootlegger backcountry garb is highly encouraged for all attendees.
"Our Annual Prohibition Party is our way of saying Thank You to our great patrons," said Josh Johnston, co-owner of Circa 33. "The event speaks to our authenticity and really showcases what we do best. Don't forget to dress up!"
Circa 33
Our name pays tribute to our neighborhood street block and the year 1933 which was the year prohibition was repealed. We call ourselves a neighborhood haunt that focuses on great ambiance, delicious food and classic libations. Our cocktail menu is dated according to year the cocktails were founded; showcasing drinks of the 1900's and drinks influenced by the 21st century. In addition to our selection of classic cocktails, we feature over 100 whiskeys in our library-style bar. To learn more, visit www.circa33.com or call us at 503-477-7682