We are giving away a pair of tickets to Bird and The Bee @ Lola's Room on February 11. To win, comment on this post why you'd like to attend. Winner will be drawn and emailed Monday, February 8.
———————————————
From our sponsors: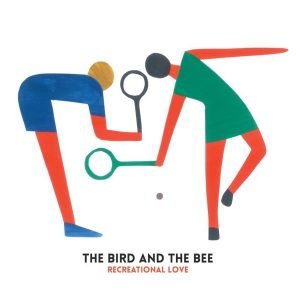 The Bird and The Bee
Young Galaxy
Alex Lilly
February 11, 2016
7 p.m. doors, 8 p.m. show | $18 ADV, $20 Doors | All Ages
More info: crystalballroompdx.com
Lola's Room
1332 W Burnside St, Portland, OR 97209
The fourth album from the bird and the bee, Recreational Love, came to life over a half-decade of songwriting and recording. "We didn't mean to take so long but life ended up getting in the way, in a great way," says vocalist Inara George, who formed the Los Angeles-based duo with multi-instrumentalist Greg Kurstin in 2005. In the midst of pursuing other projects – George also sings in the indie-folk supergroup the Living Sisters, Kurstin's a Grammy Award-nominated producer who's recently worked with Sia, Lykke Li, and Charli XCX – the two met most Friday mornings at Kurstin's studio to dream up their latest batch of finely textured retro-pop. With a hint of R&B adding some warm grooves this time around, Recreational Love captures the easy intimacy of their collaboration and lets listeners slip into the band's own charmed and secret world.
Though it's the bird and the bee's first album of original material since Ray Guns Are Not Just the Future (a 2009 release that the A.V. Club praised for its "exploration of carefree, happy-making music"), Recreational Love perhaps more closely follows their 2010 album Interpreting the Masters, Vol. 1: A Tribute to Daryl Hall and John Oates. "For the last album we sort of went through Hall and Oates college, and in studying all those songs I was really struck by how amazing their arrangements are," Kurstin says. At turns sophisticated and sweetly off-kilter, dreamlike and dance-ready, Recreational Love strips away the densely layered sound of the bird and the bee's earlier efforts to let their silky-smooth melodies shine through. Mastered by Emily Lazar – who, with Sia's "Chandelier," recently became the first-ever female mastering engineer to earn a Grammy Award nomination for Record of the Year – the album also mines inspiration from artists as eclectic as Talking Heads and Stevie Wonder in creating its intricately crafted rhythms.
On Recreational Love's shimmering lead single "Will You Dance," those rhythms are built on bouncy synth lines and bass-heavy beats. Equal parts disco confection and empowerment anthem for introverts ("I don't care if people stare/People stare at all the wrong things" goes the chorus), the harmony-laced track was conceived as "a dance song, or a song to elicit dancing," according to George. "It's about the strangeness of people in that the things that are most natural to us, we have such a hard time letting happen," she says. "The idea is, 'Don't worry about what people think, just do whatever feels good to you.'" Another beat-driven number with a tender message at its core is the soulful title track "Recreational Love," which reflects on the hurt that comes from no-strings-attached romance ("Tell me I'm the reason you've got to live/But you always say/You don't believe in love").
the bird and the bee offer a different breed of love song with "Los Angeles," a slinky valentine to the city where George and Kurstin each grew up. "A lot of times when people ask where I'm from and I tell them, they'll say, 'No, where are you really from?', which always kind of annoys me," says George. Both breezily hypnotic and winkingly seductive, "Los Angeles" personifies its title city as a lover in need of protecting ("Los Angeles, don't ever let them change you/They don't know you like I do"). And on "Runaway" (set to appear in the upcoming Judd Apatow film Trainwreck), George snakes her vocals through a strutting bassline and takes on the temptress role with cheeky conviction ("I know I'm ambitious/But you're so delicious/I wish every day was Sadie Hawkins Day"). "The fun thing about writing songs is sometimes I get to create a character who's nothing like me," George says. "This one had a Graduate kind of feeling, with an older woman going after a younger man – she's got a really strong sense of herself, she knows what she wants, and she doesn't need any romance."
Bringing both passion and playfulness to music-making has always been central to the bird and the bee, who first crossed paths when Kurstin performed on George's 2005 solo debut All Rise. "When I met Inara, I felt like I was starting a new chapter in my life, musically speaking," says Kurstin, an accomplished jazz pianist who studied with Charles Mingus band member Jaki Byard. "She knew the language of the music I really love – Brazilian music and jazz-and she sings in such a unique and beautiful way and can hear all these unusual melodies. It really was a dream to end up working with her, because I wouldn't get a chance to make this kind of music otherwise."
Released by Blue Note Records in 2007, the bird and the bee's self-titled debut played off that dynamic and conjured up what Entertainment Weekly hailed as "space-age pop that cunningly combines bossa nova languidity with Beach Boys-style lushness." While George and Kurstin have each veered off into their own separate musical endeavors over the years, their collaborations continued to serve as an outlet for unrestrained yet thoughtful creativity. Ray Guns Are Not Just the Future, for instance, broadens the bird and the bee's sound to include everything from kicky ragtime-pop to '70s-style balladry inspired by Olivia Newton John's performance in Xanadu. "One thing we've always bonded over was that we don't ever want to feel like we're too cool for anything," says George. "Being cool can stunt you, but Greg knows how to take it right to the edge, then play along those edges."
In making Recreational Love, the bird and the bee's prolonged, pressure-free process allowed for a deeper level of creative exploration than the band had ever achieved. "We let ourselves try out things that we might normally be scared to do, knowing the other person would always have our back," Kurstin says. "It's great to have that freedom of, 'Let's see how far we can push this.'" And though that experimentation is smartly hemmed in by the bird and the bee's gracefulness as musicians, Recreational Love never holds back in radiating the bright and bubbly energy of George and Kurstin's musical partnership. "When Greg and I first started making music together, it was the most natural thing that's ever happened to me, and it continues to feel that way," George says. "Neither of us depends on the other to make something happen, so when we work together it's only because we really just love to."