From our sponsors: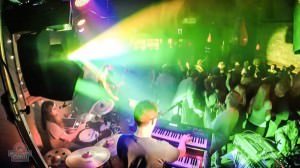 Brother's Gow
January 28, 2016
Doors 9 p.m., Music 10 p.m. | $8 | 21+
More info: thegoodfoot.com
The Goodfoot
2845 SE Stark St, Portland, OR 97214
(503) 239-9292
Hailing from San Diego, CA, Brothers Gow is leading the jam band charge in Southern California with a superb blend of funk, jazz, and reggae influences. Growling vocals and fluid guitar melodies keep things groovy at every live performance.
The San Diego quintet combines rock, funk, jazz and reggae influences with thoughtful lyrics, deep grooves and an ear for improvisation that keeps each show fresh and unique. With more than 500 shows under their belts, this well-seasoned band started off in Flagstaff, AZ, and since moving to Southern California, has developed a more dynamic sound, adding strong vocal harmonies and complex arrangements to their guitar-driven rock. Add to this mix an awe inspiring light show, and you have a recipe for a memorable concert experience.
The more evolved sound of Brothers Gow can be heard in Reflections their 4th studio album, that runs the gamut from arena rock and uptempo dance grooves to more musically and lyrically emotive tracks and some fan-favorite instrumental compositions that showcase Brothers Gow's tight arrangements.