From our sponsors: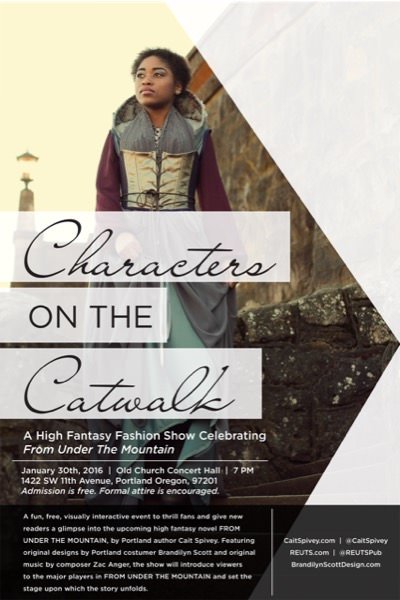 Characters on the Catwalk: a High Fantasy Fashion Show Celebrating FROM UNDER THE MOUNTAIN
January 30, 2016
7 p.m. | Free
More info: Facebook
The Old Church Concert Hall
1422 SW 11th Ave, Portland, Oregon 97201
We are pleased to announce that this January, we will be putting on a high fantasy fashion show to celebrate the release of From Under the Mountain, a new fantasy novel by local author Cait Spivey.
"Characters on the Catwalk: a High Fantasy Fashion Show Celebrating From Under the Mountain" will be a fun, visually interactive event to thrill fans and give new readers a glimpse into the novel. Featuring original designs by Portland costumer Brandilyn Scott and original music by composer Zac Anger, the show will introduce viewers to the major players in Mountain and set the stage upon which the story unfolds.
The event will be held at the Old Church Concert Hall in downtown Portland on January 30th from 7-11pm, and will be free to attend and open to the public. Formal attire is encouraged but not required.
From Under the Mountain follows a nineteen-year-old girl who becomes empress and has to face a movement to depose the four witch clans that protect her empire; but all human plans are cast aside when an ancient evil breaks free from its prison under the mountain. The empress must join forces with a psychopathic god to bind the evil again and save her people. Her journey to establish her place, protect what she loves, and do right by her people will resonate with readers across the board.
Both author Cait Spivey and costumer Brandilyn Scott are available for interviews about the novel, and/or the event. Please feel free to email Cait at caitspiveyauthor@gmail.com for arrangements. For more information, please email or visit caitspivey.com.
About the author: Cait Spivey is a speculative fiction writer and freelance editor. Her enduring love of fantasy started young; now, she explores the rules and ramifications of magic in her own works—and as a panromantic asexual, she's committed to queering her favorite genres. In her spare time, she plans her next tattoo and falls further behind on her to-be-read list. She lives in Portland, Oregon, with her darling husband Matt and adorable dog Jay. Follow her on Twitter @CaitSpivey