From our sponsors: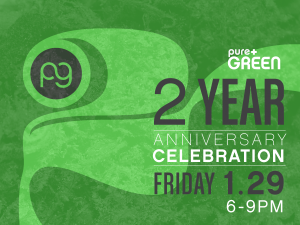 Pure Green Dispensary's Second Anniversary Party
January 29, 2016
6-9 p.m. | Free | 21+
More info: puregreenpdx.com
Pure Green
3738 NE Sandy Blvd in Portland.
Pure Green, a family owned and operated retail cannabis store in Northeast Portland, is excited to announce that DJ Seoul Bro #1 will be headlining their Second Anniversary Party on Friday January 29th from 6-9pm.
The public is invited to join Pure Green's budtenders, vendors and cannabis community for a night of dancing and celebration while enjoying local food and art.
This free community event will take place at the Pure Green retail store located at 3738 NE Sandy Blvd in Portland.
About Pure Green
Pure Green is a community focused retail cannabis store centrally located in the heart of Northeast Portland. They are proud to be among the leaders of Oregon's cannabis movement and believe in the value of cultivating community. Pure Green provides both OMMP patients and recreational customers high-grade cannabis products and unparalleled customer service.
Pure Green founders Matt & Meghan Walstatter are advocates for Oregon's cannabis community as well as the end of federal marijuana prohibition. They believe that through responsible business practices the cannabis industry will foster a new era of thriving economic development.