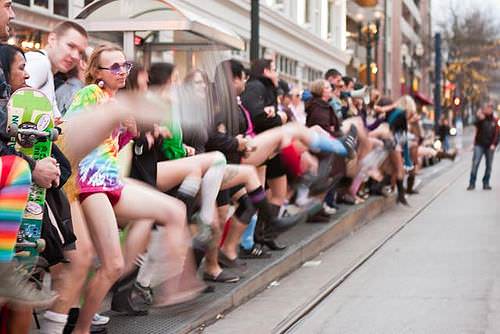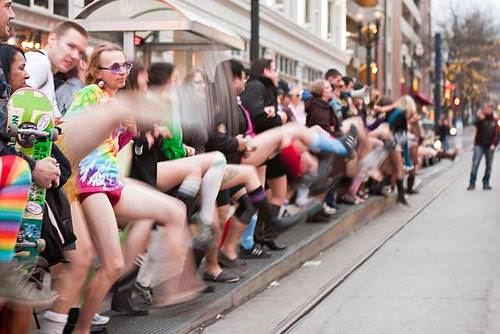 For one day only, it's OK to forget your pants. The 13th Annual Global No Pants Day is Sunday! Start working on your cover story now, you don't want to be late to this party!

———————————————
Related Portland Events & Info
———————————————
2016 Global No Pants Day Requirements, Party, Locations:
Facebook Event Info:

Global No Pants Day 2016
January 10 2016
2-8:30 p.m. | Free | All Ages
More info: Facebook
Pictures: "Global No Pants Day | 175 People, 36 Degrees"
Meeting Location: Skidmore Fountain, Portland, Oregon 97204
The No Pants Subway Ride is an annual global event started by Improv Everywhere in New York in 2002." More info at improveverywhere.com.
The mission started as a small prank with seven guys and has grown into an international celebration of silliness, with dozens of cities around the world participating each year. The idea behind No Pants is simple: Random passengers board a subway car at separate stops in the middle of winter without pants. The participants do not behave as if they know each other, and they all wear winter coats, hats, scarves, and gloves. The only unusual thing is their lack of pants.
LOCATION & ITINERARY

2:00pm – MEET AT SKIDMORE FOUNTAIN UNDER BURNSIDE BRIDGE

2:30 PM – PANTS OFF – MAX ON

2:45-3:15 PM – PIONEER SQUARE PIC

3:30 PM – CAN CAN LINE PIC AT JAKES ON 10TH

3:45 PM – RETURN ON MAX TO SKIDMORE


4:00 PM – AFTER PARTY AT SHAKE BAR (21 & OVER SORRY KIDS)
NOTE: BRING CASH – MAKES THE LINES GO QUICKER SO YOU CAN GET YOUR LIQUOR!
REQUIREMENTS FOR PARTICIPATION:
Willingness to take pants off on subway/Max
Be able to keep a straight face about it
$$$ for fare! VERY IMPORTANT!
The Max ride is an all ages event, Please, no g-strings, see thru underwear, ect.
It is very important that you bring with you a backpack, a bag, etc to put your pants in, as well as an alibi as to why you're on the max. In order not to get kicked off of the max you must be headed some where. Oh yes, remember you still are in public I recommend not wearing any thongs!
DONATIONS: We will be collecting donations of hats, scarves, gloves for the local shelters downtown… PLEASE HELP US OUT…
If you never been here are a few links below
———————————————
Our new Portland Events App for PDX Pipeline is now available for iPhones, Android phones and iPads!
Now, you can have all of the great Portland events from our website in the palm of your hand when you're out on the town.
Download the App for iPhone here
Download the App for Android here
–————————
———————————————