From our sponsors: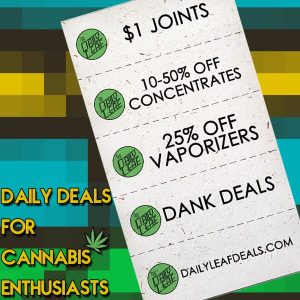 Ring in 2016 w/ Cannabis Deals
More info: DailyLeafDeals.com
Now That The Holidays are Over, It's Time To Focus On Yourself For the New Year! Ring in 2016 with Cannabis Deals at DailyLeafDeals.com
Looking for the best prices on marijuana in Portland? Too many options to chose from? DailyLeafDeals.com makes the choice easy and has got you covered!
DailyLeafDeals.com has the best deals on cannabis that PDX has to offer. With deals on flower, clones, pre-rolls, edibles, concentrates & more, there is a deal for every toker…seasoned or newly interested since legalized this past summer.
OMMP Patients; Right now you can access deals on Lunchbox Alchemy edibles, Bud Rub topical salve, Select Strain CO2 Vaporizers and MORE!
Recreational Users; Browse numerous deals on flower. From joints to larger quantities, whatever your needs are you can find a special that meets the requirement!
DailyLeafDeals.com launched last month and has helped in the sale of over $5,000 worth of cannabis in PDX dispensaries. If you own or work at a dispensary and want to get your deals listed on The Daily Leaf all that you need to do is text the deals to 503-468-6228!
Happy New Year