From our sponsors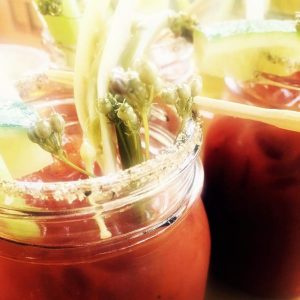 New Year's Day Urban Farm Brunch
January 1, 2016
10:30 a.m. – 12.30 p.m. | $50 | 21+
Reservations: brownpapertickets.com
The Side Yard Farm
4800 Ne Simpson St, Portland, OR 97218
"Hair of the dog" is a colloquial expression in the English language predominantly used to refer to alcohol that is consumed with the aim of lessening the effects of a hangover.
Start the New Year off right with a little hair of the dog breaky at The Side Yard Farm & Kitchen. Join our communal table in the high tunnel out on the farm in the Ne Cully Neighborhood for a seed-to-plate brunch with three family-style courses of hyper-local goodness. Our menu is grown on urban acres from the veggies, to the eggs, milk for cheese and honey from our bees. You cant get closer to knowing where your food comes from than this folks!
BRUNCH MENU
Candy Cap Flapjacks.
Pomegranate. Chestnut. Neighborhood Goat Buttercream
Farm Bene.
Duck Pastrami. Wood Fired Rye Crumpet. Charred Kraut. Last Summer's Pickle. Poached Egg. Mustardy Hollandaise
Rib Roast n' Greens
Low & Slow Roast. Mike's Greens. Nasturtium Caper Shallot Butter. Jus
SIDES.
-Smashed & Fried Pots
-Wood Fired Biscuits with Jam & Spreads
BEVIES.
Extracto Coffee.
With accompaniments
Bubbles.
Pomegranate Juice or Grapefruit Juice
Farm Bloody.
Our Spicy Mix. Dogwood Distilling Vodka. Farm Pickles
**There are two work trade spots available for this brunch. Please contact me if you're interested!