From our sponsors: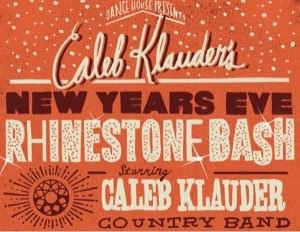 Caleb Klauder's New Years Eve Rhinestone Bash
December 31, 2015
Doors 7:30 p.m., Show 9 p.m. | $15 ADV, $20 Doors | 21+
Tickets: calebklauder.brownpapertickets.com
The Spare Room Lounge
4830 NE 42nd Ave, Portland , OR
Caleb Klauder Country Band with guests Eli West Band are performing at the best little honky tonk this side of anywhere, The Spare Room Lounge. Thursday Dec 31st. Doors at 7:30 pm. Show at 9pm
The Caleb Klauder Country Band represents the best of the Northwest music scene. Caleb has been touring nationally and internationally for over 15 years and has been involved with some of the region's most iconic bands, such as Calobo and The Foghorn Stringband.
Today, leading with vocals, guitar, and a mandolin, Caleb hosts some of the northwest's best singers and players creating a honky-tonk band that stands out as a totem in the country music scene. The band performs Caleb's praised original songs right alongside classics from George Jones, The Louvin Brothers and Dolly Parton, all at once sounding timeless, fresh, and alive. There is a drive to his music that makes it unique and captivating. This is country music made for people who want to have fun and who want to dance, harkening back to the old dance hall days when people of all walks of life came together to simply dance, socialize, and enjoy live music.
Raised on Orcas Island, Washington and now living in Portland, Oregon, Caleb is a true north westerner, yet his maternal family roots lay in East Tennessee. His mother, originally from Knoxville, moved her family out west when Caleb was only a year old. These deep family roots contribute to Caleb's music, tapping into old memories to bring you the strong singing and spirited attitude that give his music an edge that is both cutting and sweet.
Band members include Jesse Emerson on upright bass, Ned Folkerth on drums, Reeb Willms on vocals and guitar, Russ Blake on pedal steel and electric guitar, and Sam Weiss on fiddle, all of whom contribute to the vibrant northwest music scene in various other bands.
Eli West, from the famed duo Cahalen and Eli. Eli will be performing his energetic and powerful country music that is a perfect blend of the old honky tonk and the new tough country. Eli has a demand of the music that is engaging and powerful. He will draw you in get you dancing and then he will come and dance with you himself.